Recipes
Cameroon Pepper Fish Stir Fry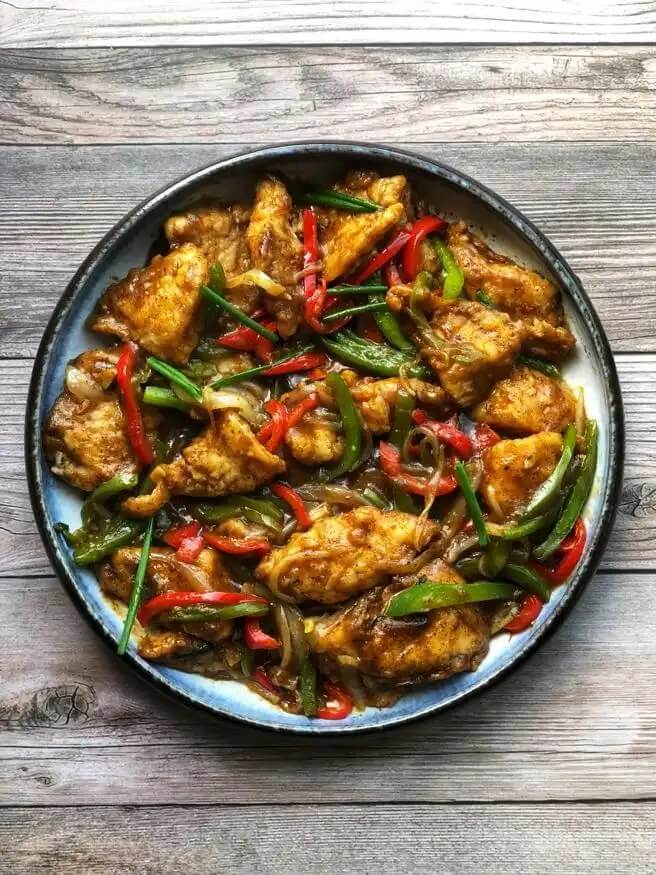 Happy New Year Guys! We are starting the new year on a Spicy Note with this amazing Cameroon Pepper Fish Stir Fry dish!
So Uhm, what is Cameroon Pepper?
Cameroon Pepper is a dark ground pepper made from dried scotch bonnet peppers. It is usually used in Nigerian dishes to give a distinct flavour profile. (PS; please don't try to smell this pepper, its strong flavour and spice will leave you sneezing).
You know those days you crave so many things at once? I had one of those days a while back, where In had intense cravings for fried fish bits, something spicy, something with ginger, something with crunchy bell peppers and steamed rice (Basmati of course!). I wanted a dish that would leave me sweating and needing a cold drink after. So what do you do when you have a craving for all of these amazing flavours?
Ingredients
5 Tilapia FIllets
2 Habaneros
1.5 Cups Warm Water
2 Tbsp Cameroun Pepper
Two Tbsp Cornstarch
2 Tsp Bouillon
1/2 Cup Flour
Ginger
2 Bell Peppers
2 Cloves of Garlic
Frying Oil
You make it a dish.
Fortunately, as always this recipe uses a lot of pantry staples that are accessible to everyone. This feels like something out of an Asian restaurant with a Nigerian chef sneaking spices in.
Here in this recipe for the Cameroon Pepper Fish Stir Fry, I made a stir fry sauce from scratch. I think this is one for the books.
This dish, really easy to make, will warm you up, will clear colds, it will make you feel loved from the inside. The fried crispy fish bits, slightly drenched in the Cameroun pepper Stir fry sauce and the fresh peppers along with a side of steamed rice will give your tastebuds and your belly an amazing treat.
This Cameroon Pepper Fish stir fry can be tweaked especially on the spice level to fit individual taste buds (I am Yoruba so you know I can't disappoint my traditions by making it less spicy).
Before we proceed, guys, in the spirit of accountability we are introducing a new hashtag! #MyAllIDoIsCook Please use this hashtag on social media posts whenever you make a recipe. We would love to make this a thing to encourage more people to cook and enjoy food!
Directions
Cut room temperature fish fillets into chunks and pat them dry. Season with some salt and toss them in flour. This will ensure the outside of the fish stays crispy when fried. 
Heat enough oil in a frying pan and fry flour-coated fish bites till they are golden brown.
To make the stir fry sauce, mix Cameroon pepper, cornstarch, bouillon and water in a bowl. 
Heat one cooking spoon of oil, sauté ginger and garlic for 3 minutes. This is a vital step to getting all the flavour out.
Add your cut vegetables to this mix and sauté for 2 minutes and throw in your fried fish cutlets. 
As soon as your fish hits the pan, pour in your Cameroon pepper stir fry mix to the pan, this should bubble almost immediately. Toss to coat every item in the pan with this beautiful sauce. 
Let this simmer for 2 minutes and serve with steaming hot rice!