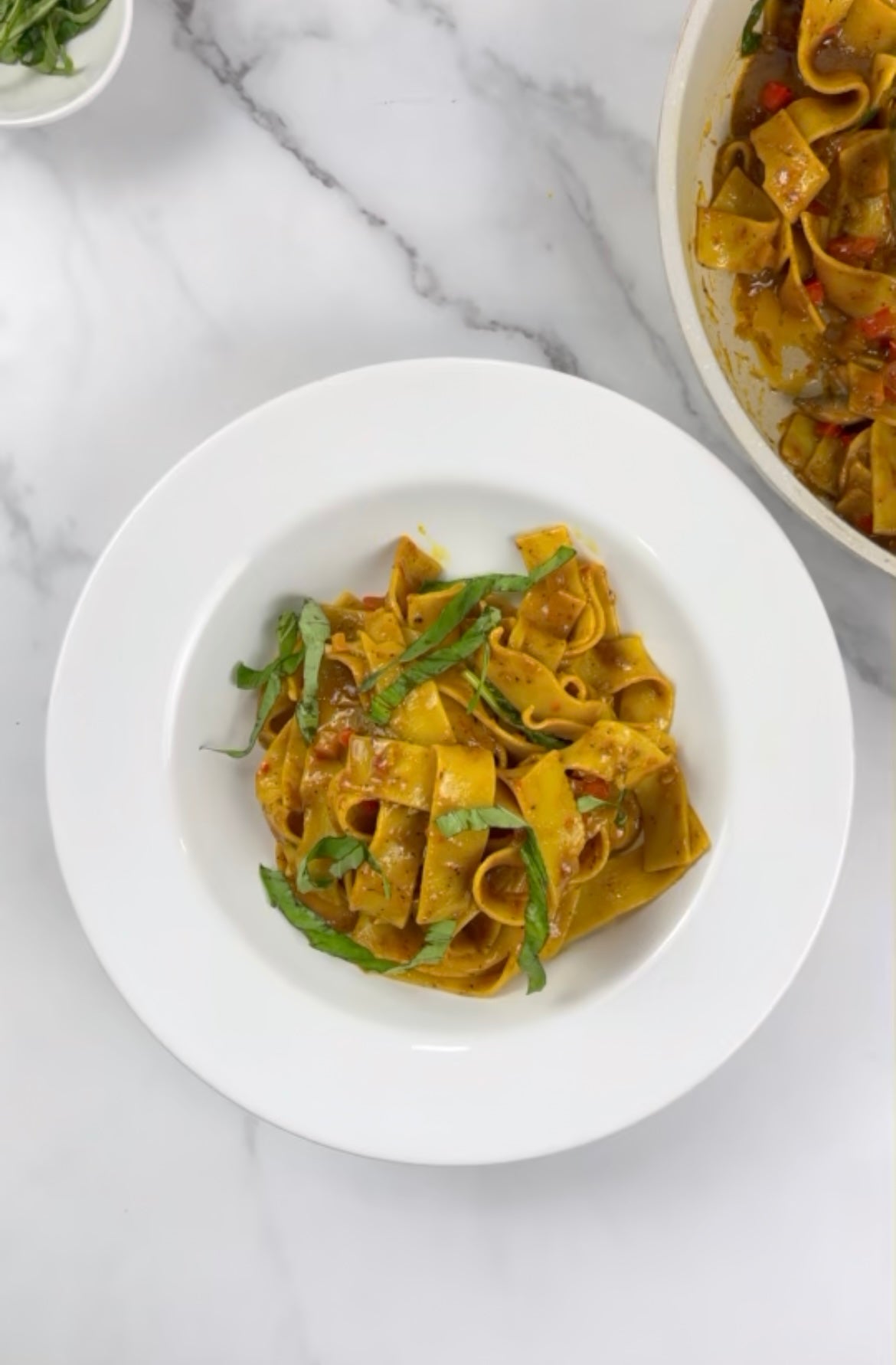 Written by: Bethany
The combination of Coconut Milk and Curry is LEGENDARY, and this Coconut Curry Pasta proves that 100% right. Across so many cuisines, the mix of curry and coconut (in many forms) always makes a delicious, hearty, and flavorful dish, and this one is no exception.
This recipe has a twist by adding some Stew (tomatoes, peppers, and onions) blended and cooked together. It is a base or mother sauce in West African/Nigerian cooking, and this addition gives the dish a lot of depth for the different flavor profiles in this dish.
Making this dish requires some skill, but rest assured, this dish will blow your socks off!
Ingredients
1 Lemon
2 tsp of Garlic
2 Bell Peppers
2 tbsp of Knorr
4-5 Mushrooms
5-6 Basil Leaves
1 tsp of Black Pepper
4 tbsp of Coconut Oil
1 Cup Adùn Plain Stew
1 Can of Coconut Milk
½ Red or Yellow Onion
2 tbsp of Curry Powder
½ Pack Pasta (Papaderlle)
Directions
Heat Coconut Oil in a pan over medium to low heat.

Sauté onions and garlic until translucent. 

Add mushrooms , season with salt, and sauté until brown. 

Add chopped bell peppers and cook for 2 minutes. Take out half of the sautéed vegetables and set aside. 

Add Plain Stew with curry, black pepper, knorr, and salt and cook for 2 minutes. 

Add a can of Coconut milk to the pan, stir, and let it simmer. 

Cook Pasta till al dente, add to sauce with some pasta water, and simmer for 3 minutes. 

Squeeze in some lemon, add another half of the sautéed vegetables and chopped basil. 

Serve hot!