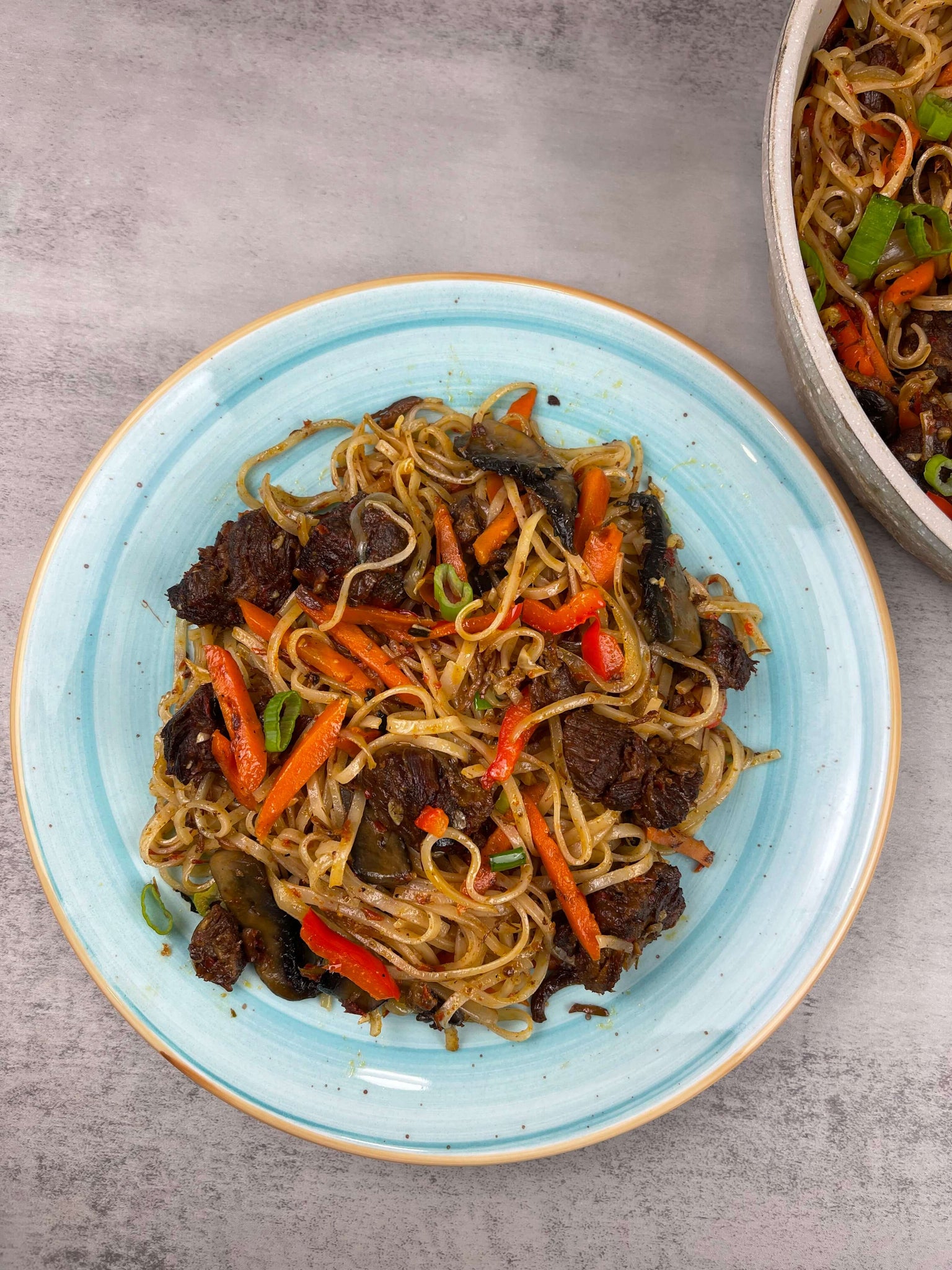 Written By: Bethany
A Stir fry with a Palm Oil base? Did you go "huh?"
Yes, you read right. This stewed beef stir fry recipe uses Palm oil as its base, and I am being 200% honest here - you have not tasted anything like this before. In a good way, of course. This dish looks like any Asian stir fry dish you might know but the flavors? It feels like home.
If you love vegetables, you will love this stir fry dish. This recipe is perfect and quick enough for weeknights or lunch, featuring lots of garlic, carrots, mushrooms, Thai rice noodles, and some stewed beef from Adùn.
This recipe is available on Youtube here and Instagram here. Let's get cooking!
Ingredients
1 Carrot
Salt to taste
½ Yellow Onion
2 Green Onions
1 Red Bell Pepper
4 Cloves of Garlic
3 tbsp of Palm Oil
1 tbsp of Rodo Crisps
1 Portabella Mushroom
½ Pack of Rice Noodles
½ Pack of Adùn Stewed Beef
Directions
Soak Rice Noodles in water for about 20 minutes, wash and cut up all your vegetables, and mince garlic. 
Add your palm oil, carrots, and rodo crisps in a pan on medium heat. Saute for 2-3 minutes. 
Add in your onions and a pinch of salt. Cook for a further 3 minutes.
Add in your stewed beef and mix until it is combined properly.
Throw in your cut-up bell peppers along with your rice noodles and combine them properly. 
Add ½ a cup of water and turn the heat down to low.
Allow this to steam for about 4 minutes, and it's done!
Sprinkle your cut-up spring onions over it, and voila! 
Serve hot, and enjoy!