Recipes
Tossed Bacon And Shrimp Pasta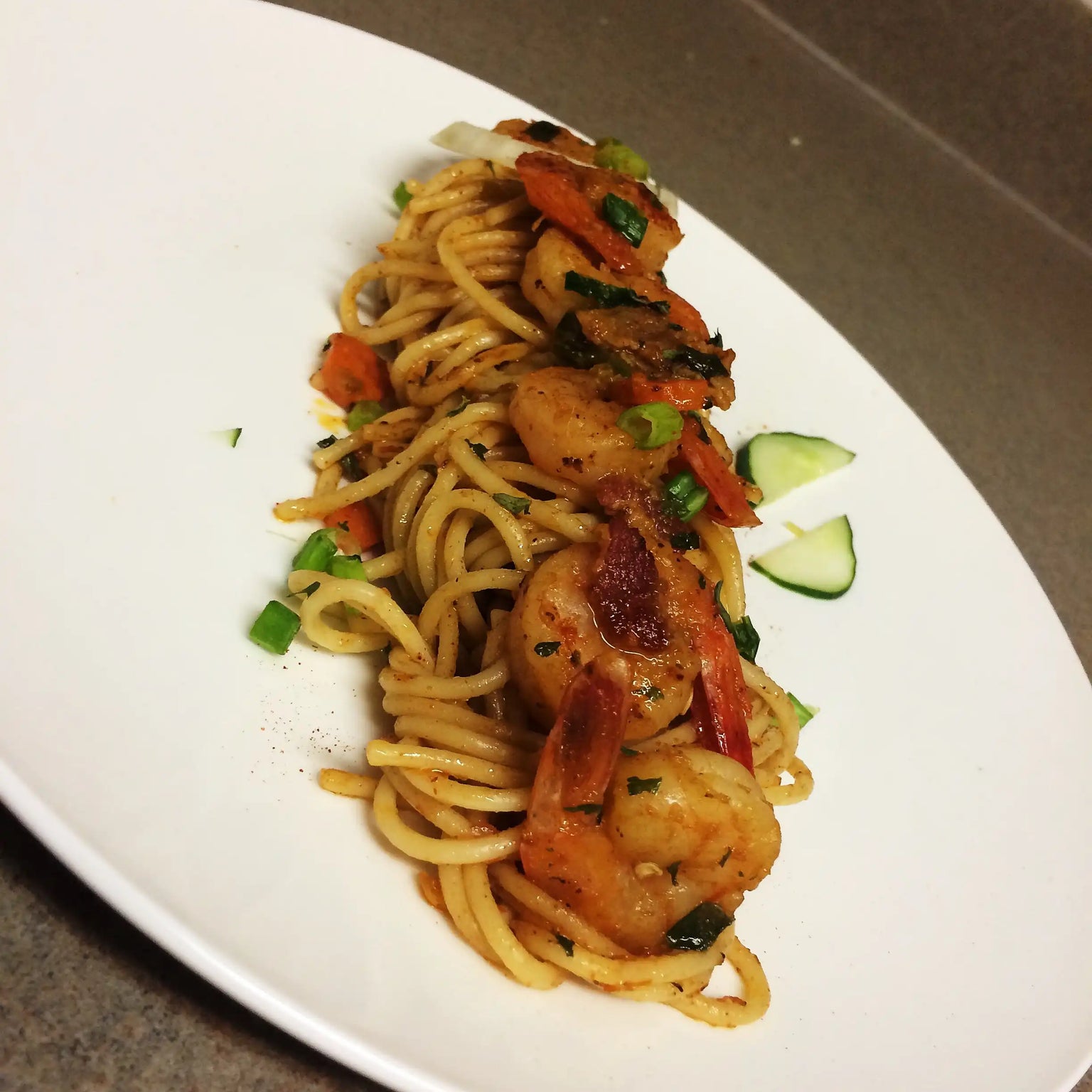 I stood in front of my pantry wondering why I had so many packs of pasta then I realized I got them at 88c per pack, and pasta sauce jars at $1.20 well can't blame me. I had to grab them while the deal was on.
Following this came the usual walk to the fridge to look, I don't know why everyone does this when we know there's nothing new in there. SO I decided to make something different with these items. I picked out all the proteins in my fridge, the pasta, a jar of pasta sauce and assembled the infantry "let us cook". This dish is really easy to make with lot of flavor and some minutes spent plating would leave you  wowed!
Cooking Time: 25 Minutes
Ingredients
1 Pack of Regular Pasta
1 Pound of Medium shrimp - peeled and deveined
5 Slices of Applewood smoked Bacon
A cup of Pasta Sauce
2 Table Spoons - Canola Oil
2 Cloves of Garlic
Chives (Green Onions)
A sprig of Parsley
Sliced Carrots
Salt and Black Pepper
1. Cook the pasta till its Al Dente (well this means the pasta is still firm not soggy and looking like mash) and set aside in a strainer.
2. In a pan or skillet cook the bacon slices till they are crisp, crush them, in bits and reserve the grease from it.
3. Add some crushed garlic to the bacon grease and toss in the shrimp and cook on medium heat add a pinch of salt and some black pepper while it cooks to get some taste. Remove from pan and set aside.
4. Pour in the cup of pasta sauce and add sliced carrots and chives and parsley.
5. Pour In Pasta along with the shrimp and bacon and add a little more bacon grease and toss till all the pasta is mixes with everything and is not being a stranger to some ingredients in the pan.
6. Serve, sprinkle with more crushed bacon bits and chives.