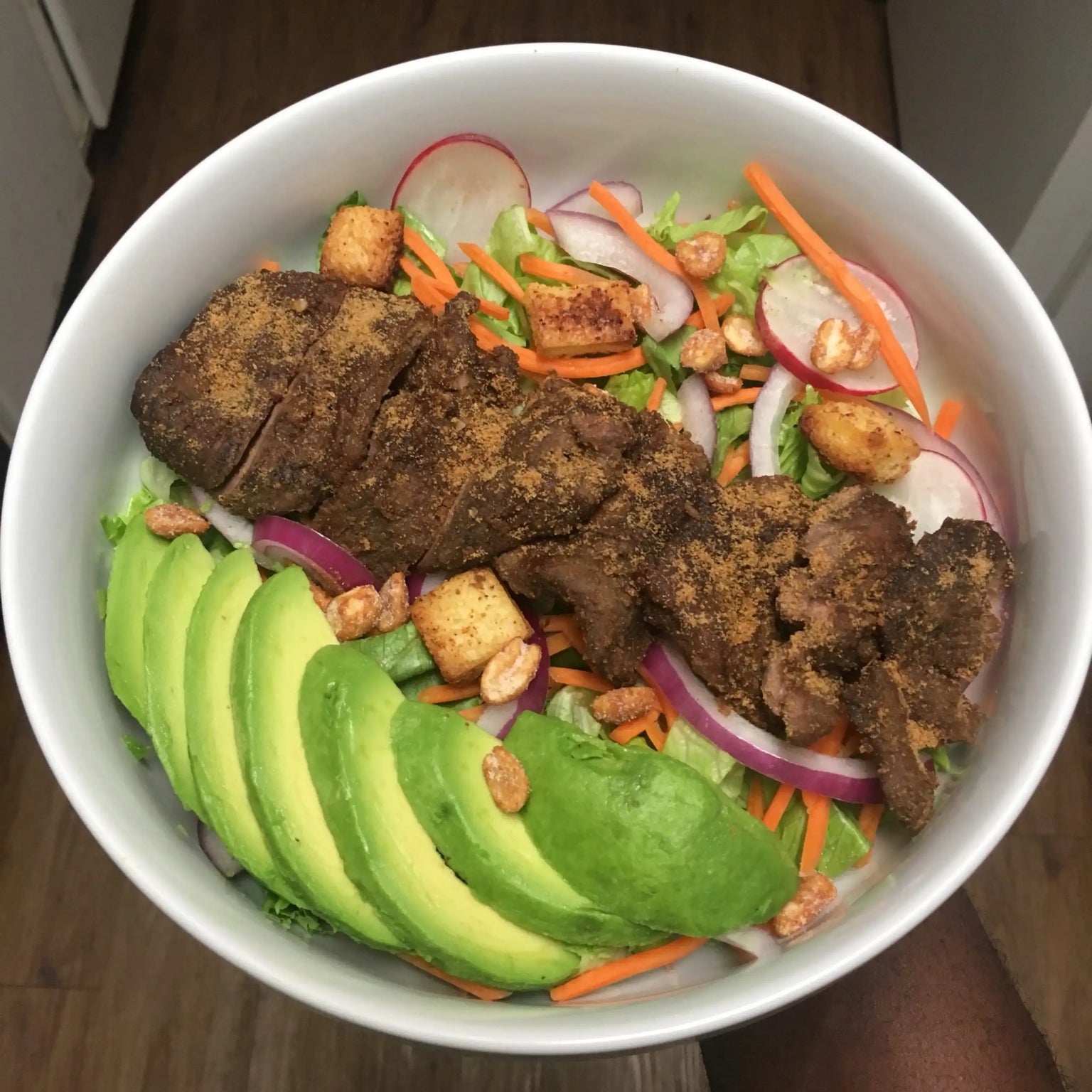 No need for my regular opening apologies because mans is actually updating the blog regularly now. Alright, so Boom let's do this.
This is the first time I am eating a dish as I type its blog post. Interesting isn't it? It is 2 AM, I am eating a salad my body must be like "my guy you are eating late but eating healthy"
The last time I had suya in Nigeria the mallam cut up and added some cabbage… he charged me N300. I did not see him add the cabbage in it and the package felt really bulky, I thought it was all suya meat in it, only to get home… yes I was furious as you can tell.
But yes! If he had the audacity to cut in cabbage and tomatoes well then why can't we make it a Salad right? So that's what I did. But you know we switch it up. 
Ingredients
Salt
Garlic
Onions
Carrots
Lettuce
Avocado
Vegetable Oil
Skewer Sticks
Seasoning Cubes
Thai Peanut Sauce
Beef - Sliced Steak
Yaji (Suya Seasoning)
I decided to use Thai Peanut Sauce as the dressing because that is one of the best Salad dressings ever! And it also goes with the theme of the peanuts in the Suya spice. Smart eh?
Threw in half an avocado, and some honey-roasted peanuts and to knock it out of the park, made croutons with Agege Bread. Nigeria must be proud of me.
Directions
Sharpen your knife with another knife to pay homage to the Suya Mallams that do this daily and finely chop two garlic cloves. 
Crush two seasoning cubes, a tsp of red pepper, and a pinch of salt into half a cup of vegetable oil and mix thoroughly. 
Soak your skewers in water for at least two hours. Slice your meat, and cut it into two-inch strips. 
Season with the oil mixture and leave to sit for three hours. I left mine for longer because I had to go to work. 
Place these meat strips on the skewers. 
Dab them with the suya spice (no not the dance move).  
Heat your oven to 350F and bake them till the meat is firm, dark brown and sizzling. "It has done". 
In my extraness, I had three slices of Agege Bread left, I ate two and cut one up into cubes, drizzled some olive oil and roasted garlic, baked for 7mins on 300F and voila! 
Agege bread croutons (I forgot to take a photo because I was eating them). 
For the Salad part, I used Lettuce, red onions, radishes, matchstick carrots and avocado as the veggies. Add these to your bowl with your suya, a few Agege Bread Croutons, and some peanuts, drizzle some peanut sauce, stir it up and boom you have it. Mad Ting Salad!