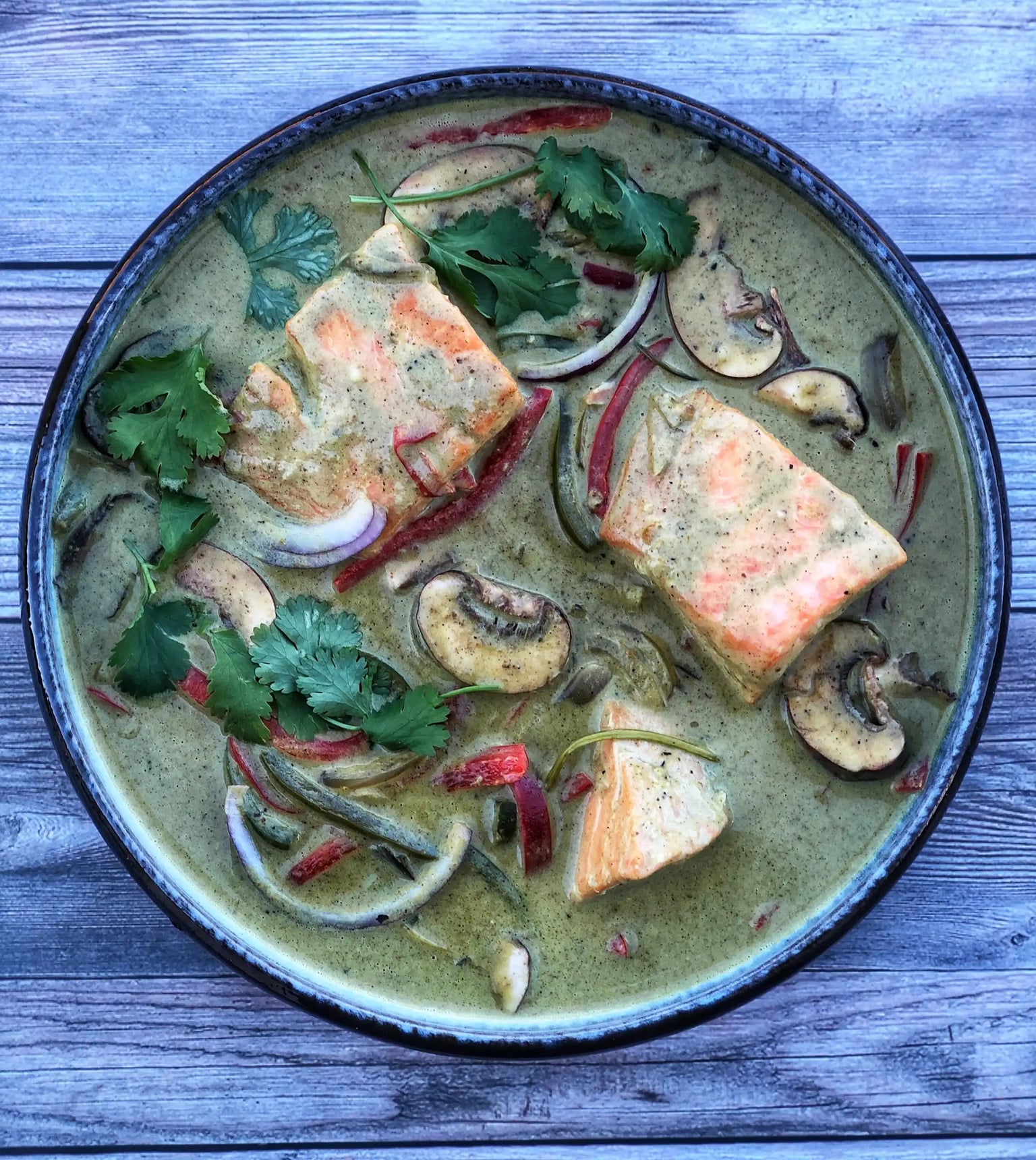 Last week, I took a mandatory break from work just to relax. You know, no work just vibes. And my mind wandered far away and landed on this Peppersoup Fish Curry dish. I had been studying and exploring Nigerian spices and spice blends.  I needed to do something with the 6 jars of Peppersoup spice I had in the pantry (don't ask me why I have that many).
You might be wondering what is Peppersoup Spice. I used this in one of the previous Assorted Peppersoup posts. One of the best minds in Nigerian food research has a whole blog post dedicated to this here.
My thought process; after making Thai Fish curry 3 days in a row for a client was centred around how red curry paste was a blend of various ingredients. We know pepper soup spice is also... Hence, I decided to try this Peppersoup Fish Curry  And the results were AMAZING!
This dish gave all the feels, it felt like Peppersoup and also like curry, so warm, hearty, spicy and flavourful. You NEED to try this. It follows most of the principles of a regular Thai Curry but with a couple of tweaks.
Ingredients
Salt
Mushrooms
Bell Peppers
Cooking Oil
1 Onion Bulb
1/2 Habanero
3 Scent Leaves
1/2 Lemongrass Stalk
1 tbsp of White Pepper
1 tbsp of Curry Powder
2 tbsp of Brown Sugar
2 Cans of Coconut Milk
3 tbsp of Peppersoup Spice Blend
This is one of the easiest recipes because it takes exactly 20 minutes to cook and uses two pans. Also, please don't forget to use the #MyAllIDoIsCook when you make this Peppersoup Fish Curry and share it on social media.
Directions
Blend coconut milk, white pepper, brown sugar, Peppersoup spice, curry powder and 1/2 habanero.

Heat up 3Tbsp of oil in one pan on LOW heat and cook salmon for 3 mins on each side. You don't want to overcook it at this stage.

In another pan, saute ginger, garlic and lemongrass stalk for 2 minutes. Add half the bell peppers and onions and saute for another minute.

Pour in your coconut milk blend and let simmer for 5 minutes. Add your mushrooms, and salmon and let simmer for another 4 minutes.

Garnish with some cilantro and your Peppersoup Fish Curry is done!