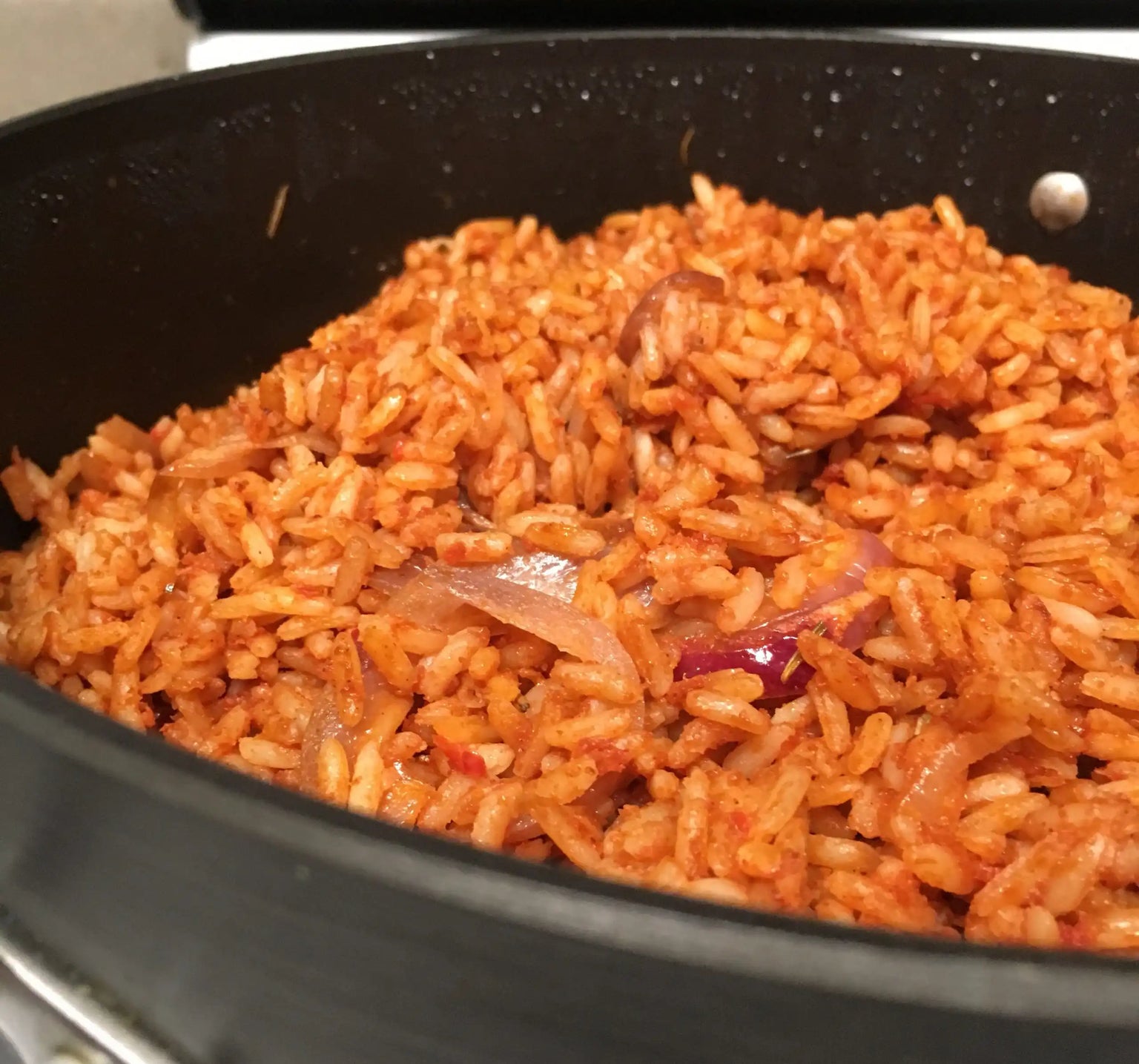 The Jollof Rice because it deserves that title! Guys, this recipe needs some patience and you will come back to thank me.
So, this is a top secret: I used to be scared of Jollof rice. The first time I ever made it. Sighs, horrible, well in my defense I was about 13. It turned out this way: the rice was uncooked and whole thing soggy. Let's say my mum didn't know what happened while she was away.I refrained from it ever since then.
Two weeks ago, I decided to get rid of that memory and try it out again. And guess what it came out amazing. I actually called my friends to come eat, they really didn't know I was celebrating a victory over a traumatizing experience. And being honest, It was so good.
The best kind of Jollof rice is made with firewood, but I didn't have access to using that because I didn't want to be kicked out my apartment so I made use of what I have, still came out amazing. It is easy to nail, easy to mess up. I think I have mastered my own method.
Ingredients
Curry
Butter
Thyme
3 Onions
Cooking Oil
Bay Leaves
4 Tomatoes
Tomato Puree
Cayenne Pepper
Lots of Patience!
Seasoning Cubes
3 Red Bell Peppers
Dried Chilli Peppers
5 Cups of Long Grain Rice
Directions 
Parboil your rice and run it under cold water to stop the cooking. I did this to reduce the starch in the rice to reduce the stickiness and not have the jollof looking like Ghan…oops. Just kidding.
For the pepper paste I used the Stew method, roasted all my tomatoes, onions, peppers for 45 mins in the oven at 400F. After roasting them you do not need to add water to blend them or even cook it for long!
In a pot heat up about 5 Spoons of Oil. Add your sliced onions, chopped chiles and cook for 4 mins. Add one medium can of tomato puree to this and cook for 5 minutes. You will see your oil change color to red. That is what you want!
At this point you pour in your blended roasted pepper paste, add seasoning cubes, cayenne pepper, curry, thyme and salt. Let this simmer for 5 minutes.
Pour in your parboiled rice and stir the contents in the pot with a wooden spoon. Look, use a wooden spoon because I have never seen an iron spoon being used. Let us maintain status quo, okay?
Add 2 cups of Meat stock and stir gently. I always use smoked goat meat stock because that flavor is an incredible something! Stir it to make sure the pepper sauce is incorporated with the rice well.
The secret to great Jollof is steaming. Reduce the heat to medium and cover the pot. After about 35 minutes, stir the rice to make sure every part has the pepper sauce.
Cut knobs of butter and place them on top along with sliced onions. Cover pot with a foil and reduce to low heat and steam it for 45-50 minutes letting it also burn on the bottom. The butter adds a special flavor and also "greases" the rice so they don't stick together. The onions sweat and create steam to further cook and flavor the rice. Smart eh? 
When you open the pot you will see the perfect jollof rice. Loose grains, perfect color red, steaming and looking like it can take your birthright. Enjoy!