Recipes
The Goat Meat Pepper-Soup Pho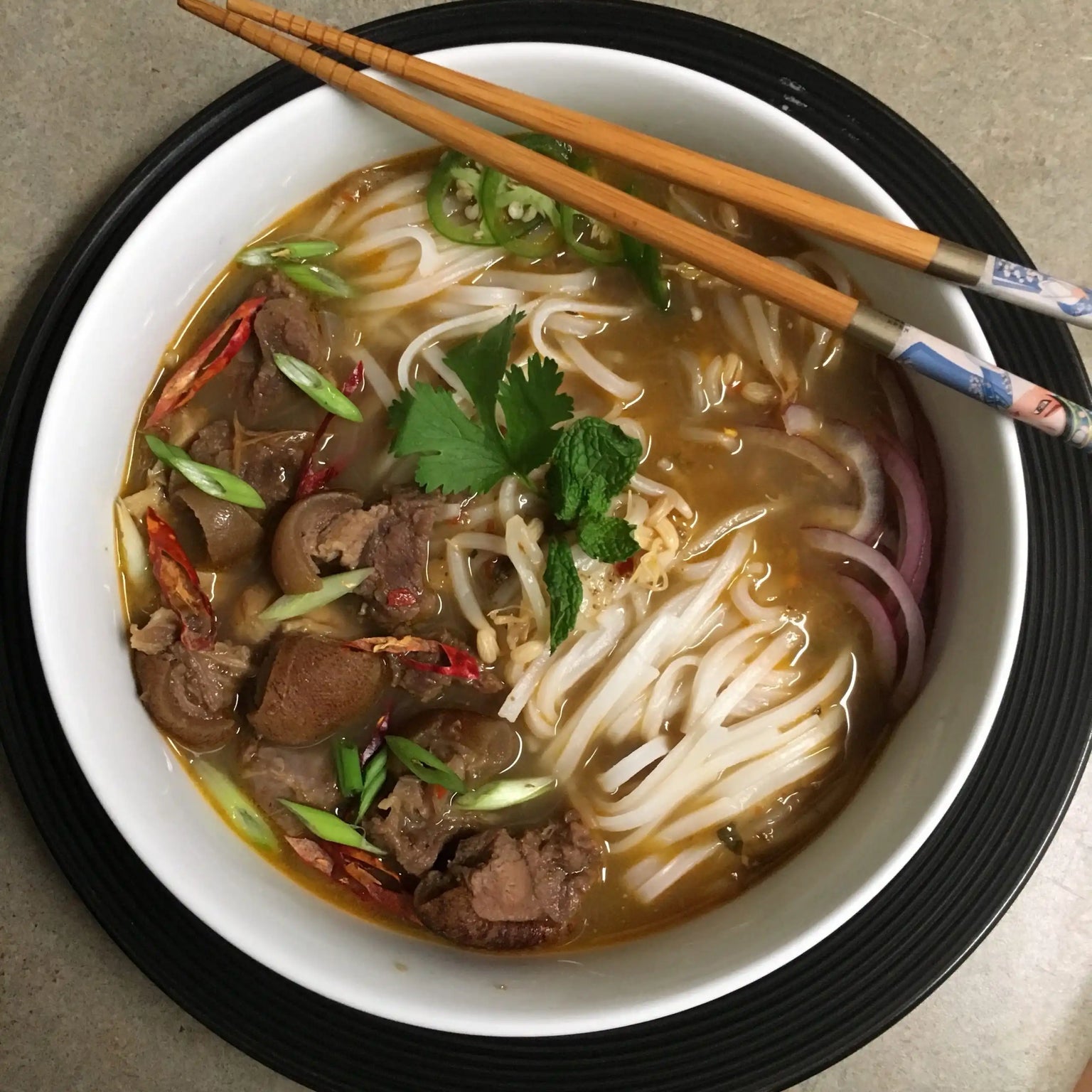 Okay, guys, I can explain and I apologize for the absence. Due to work, research and food orders. Also, I finally decided to start shooting videos for my YouTube channel! Apparently, it isn't as easy as I thought. But Yay!
This recipe has come a long way, from 2015 when I had my first bowl of Pho with my Vietnamese friend and my Korean professor. I enjoyed it so much that I went back there to order a bowl and understand it correctly. It happened that I asked another Nigerian if they had tried Pho and the answer was "what is that?"
That got me thinking, about how can I explain it and I blurted out "it is Asian noodles in flavorful soup".
This set off a bright idea (or maybe I was just hungry), Pho is good for the cold weather, has meat in it, could be made to be spicy, and it's always in a rich and tasty broth...
Ingredients
Uda
Salt
Ginger
Onions
Red Chiles
Jalapeños
Habaneros
Mint Leaves
Rice Noodles
Seasoning Cubes
Goat Meat and Tripe
Green Onions
Cilantro
Bean sprouts
Red Onions
What is the Nigerian equivalent? Pepper Soup! And ladies and gentlemen this was how this came about.
Rice Noodles in a Goat meat Pepper soup broth; Nigerian Pho!
Directions
Assemble the infantry, pour a libation to the Nigerian gods, and bow to the Vietnamese gods because you are about to do a fusion of both cultures. Put some respeck on it. 
Cut up your meats into tiny bite-sized pieces, remove all the bones, and throw in 2 Maggi cubes, 2 Tbsp salt, 2 habaneros, 3 Tbsp pepper soup spice, 2 cloves of uda, 4 mint leaves, 2 Tbsp chilli flakes, thumb size of ginger. Add about 4 cups of water and boil till desired softness. 
When your meat is cooked to perfection you will see the broth is a little thicker from the meat flavor and stock. 
Slice your garnish items (red onions, green onions, cilantro, jalapeños) very thinly and set aside. These will harmonize (that word sounded cool in my head so I threw it in there) your dish as you eat it. 
Bring 3 cups of water to a boil, turn off the heat and put your rice noodles in it. 
Let this stand for 10 minutes. 
Plate your dish in this order; noodles in. 
Pour the pepper soup broth over it. 
Arrange your goat meat respectfully on one side. 
Garnish on the other side and bam! 
You have it.