Recipes
The Garlic Butter Shrimp Sauce Invention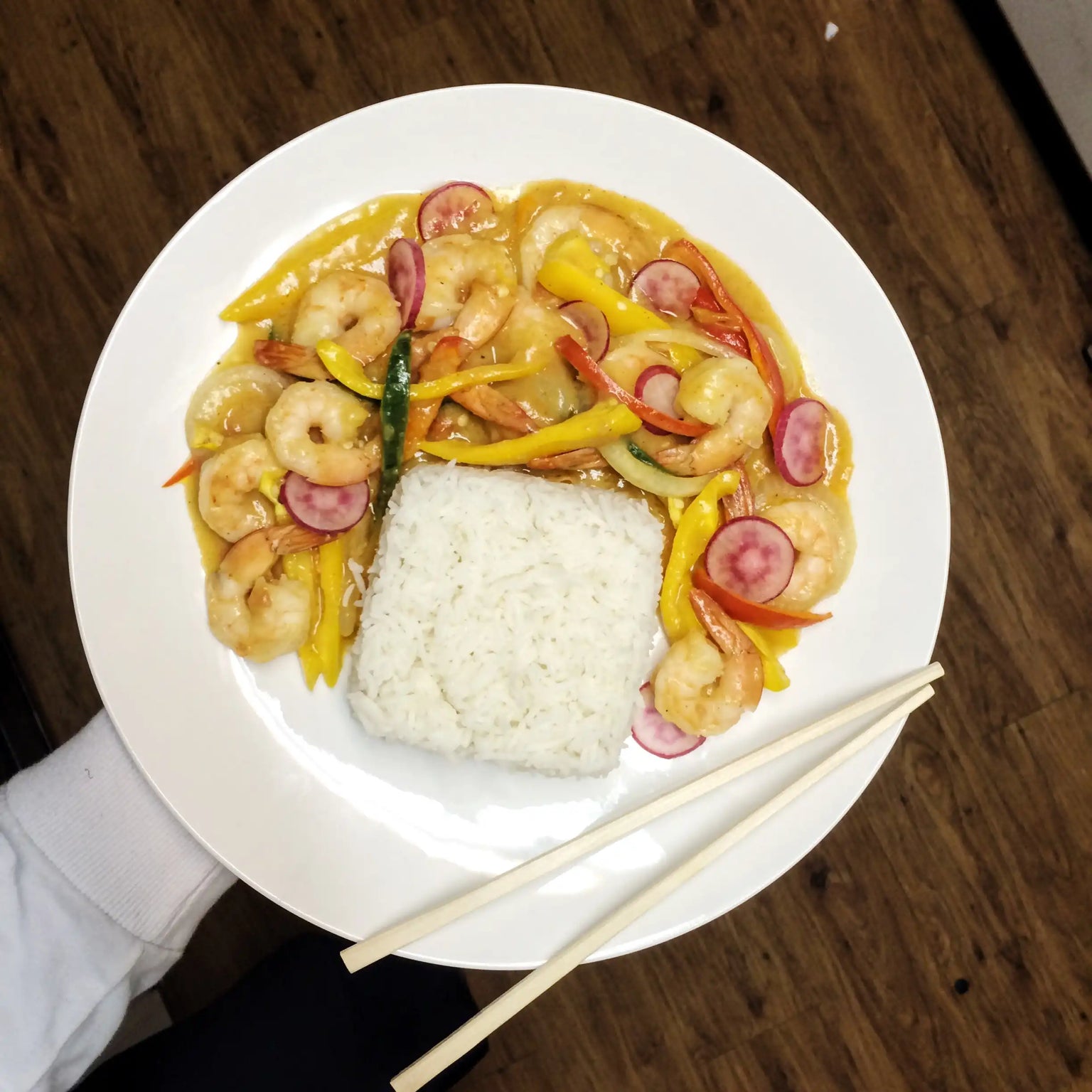 Had a week filled with lots of events and my way of releasing stress is to be creative with my cravings. I had been craving shrimp in some kind of sauce all week but could not really place my finger on what it was.
So I picked up a pen with the fingers and wrote out all the flavors I would love in a new shrimp dish. Someone seating close to me thought I was taking notes in class but well I had food items listed (in my defense class was almost over) felt like putting a jigsaw puzzle of flavors and cravings together.
Excitedly went grocery shopping, I decided to integrate a new item I had never used; Radishes. Crunchy, tangy and has some spicy to it. Amazing vegetable!
This has a little technical parts to it but I shall explain in details.
Ingredients
Large Cleaned Shrimp (31-40 pieces)
Garlic Powder
A Stick of Butter
Sweet/Bell Peppers
1 Onion Bulb
3 Radishes
1 Tomato
2 Habanero Peppers
3 Tablespoons Flour
Basmati Rice
Seasoning Cubes
Directions
Depending on how fast you are or if you are watching an episode of How to Get Away with Murder or listening to Adele and take crying breaks this could take you between thirty minutes to an hour to make. But ideally this takes 37 Minutes.
Started out with cooking the rice side of this dish, and cutting up the vegetables peppers in strips, tomatoes in cubes, radishes and onions in thin slices and finely chopped habaneros. Marinate the shrimp with a table spoon of garlic powder, seasoning cubes, and finely chopped habanero.
In a separate dish, combine three tablespoons flour with two table spoons garlic powder and a seasoning cube and mix with a little water to form a really light watery texture.
Heat up a saucepan and melt a stick of butter and add the tomatoes, and cook the shrimp in it for 5 Minutes with its marinade.
Reduce the heat then pour in the flour/garlic mixture and stir in this thickens as it warms up but make sure it is on really low heat so the sauce is not too thick and stiff and then add the rest of the vegetables except the radishes. Add the radishes at the end and turn off the heat totally.
The radishes could be eaten raw, but I preferred to heat them a little in the sauce. Had this with a side of hot basmati rice. This was everything I had imagined. 

End Result: Satisfied, Tummy Filled, Homework Postponed till further notice.