Recipes
Sweet And Savory Ground Beef Plantain Patties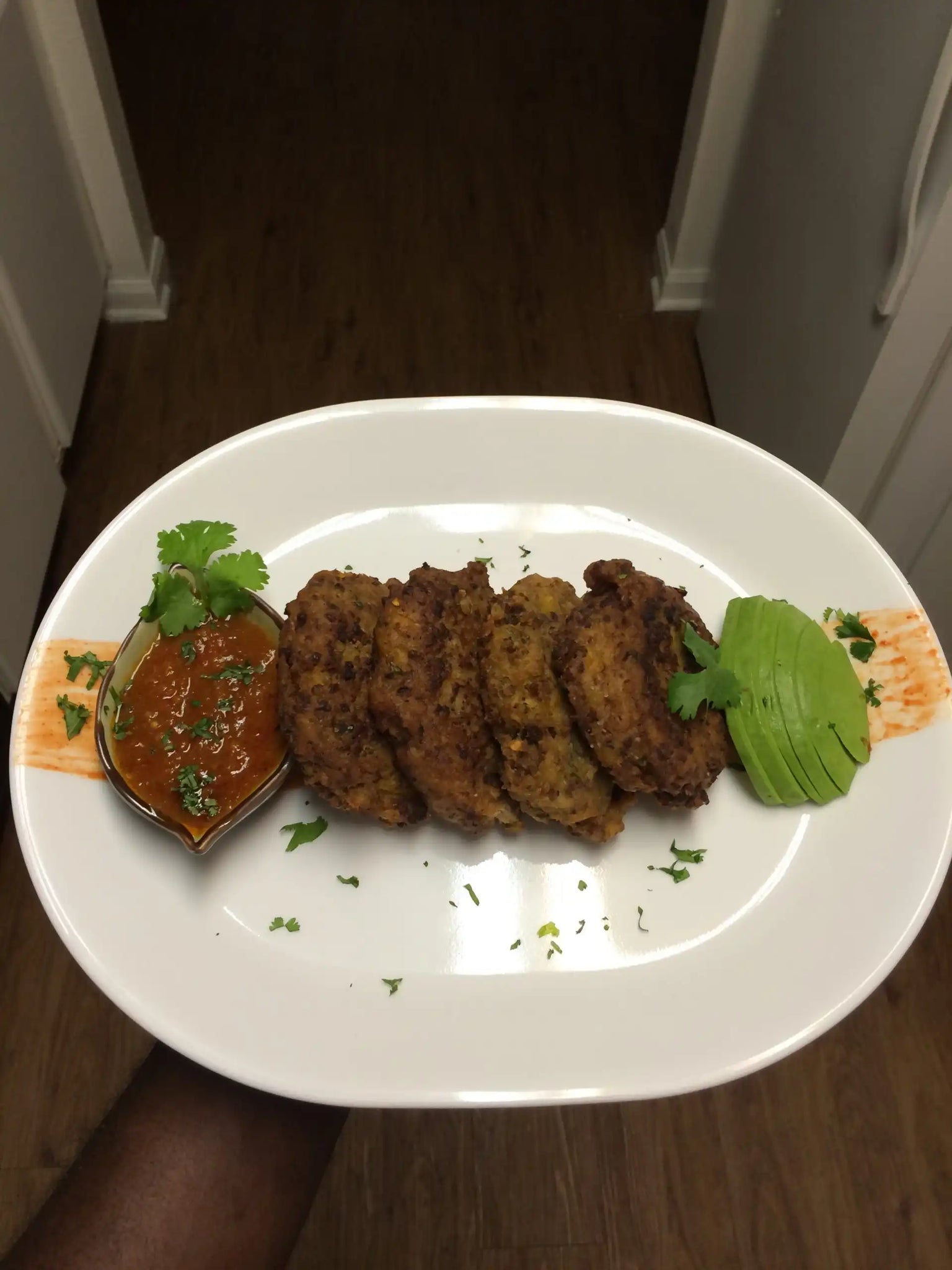 It's been a minute or 2 months in regular time. I apologize for the absence, summer has been so busy for me working full time and the like.
Well to this recipe. I was having a rough weekend, and what better way to get over it than to get in the kitchen. I went to the Mexican store saw these overripe plantains, and decided they would be good to make Mosa (it is a Nigerian snack made from mashed plantains mixed with flour and fried in ball forms). I picked about six of them and paid $0.50 for them because the store didn't want such negativity anymore.
When life throws you overripe plantains, buy ground beef and make this recipe.
Ingredients
1 lb of Ground Beef
3/4 Cups of All Purpose Flour
4 Overripe Plantains
A Handful of fresh Cilantro
2 tsps Kosher Salt
2 tsps Red Pepper Flakes
1 tsp Garlic
2 Eggs
Avocado
Canola Oil
So I had this crazy idea, what if your regular burger patty was sweet instead of having to pour a sweet sauce over it? Voila! Idea was brilliant but I had to tweak it. It couldn't be just plantain and meat, so I decided to add some herbs to the mix to give it a kick and freshness. What other herb could do that other than cilantro?
Insider tip: my friend told me "this is a huge risk you are taking. Usually when a person wants to "try" something new from scratch they do it small". I told him I was sure what I was doing. Trust me it turned out amazing. You can serve this in tinier servings, as a canapé or as an appetizer or even as a main dish, it is quite filing.
Directions
Mash your Plantains properly and aggressively in a bowl and pour in your ground beef. Mix together slightly or with leftover aggression.
Grab a handful of Cilantro and chop it very finely like the way they do on Food Channel and add it to the mix. 
Throw in your Flour, Salt, Crushed pepper flakes, Garlic and eggs and mix everything till properly incorporated. You don't want a huge bite to be just meat or worse off, salt. 
Drink some water.
In a pan add some Oil and put on medium high heat. Scoop some of the mix with a spoon and drop it in the oil. Fry for a minute on one side, flip it, then with a spatula flatten it out in the oil so it looks like a patty. 
After about 4 minutes or when it is golden brown around. It is done. Easy right! 
I tried the first one out and it was so good I did a victory lap around my kitchen. I was so proud of myself I went a little extra on the plating. (I broke my diet rule and finished that plate at 10PM).