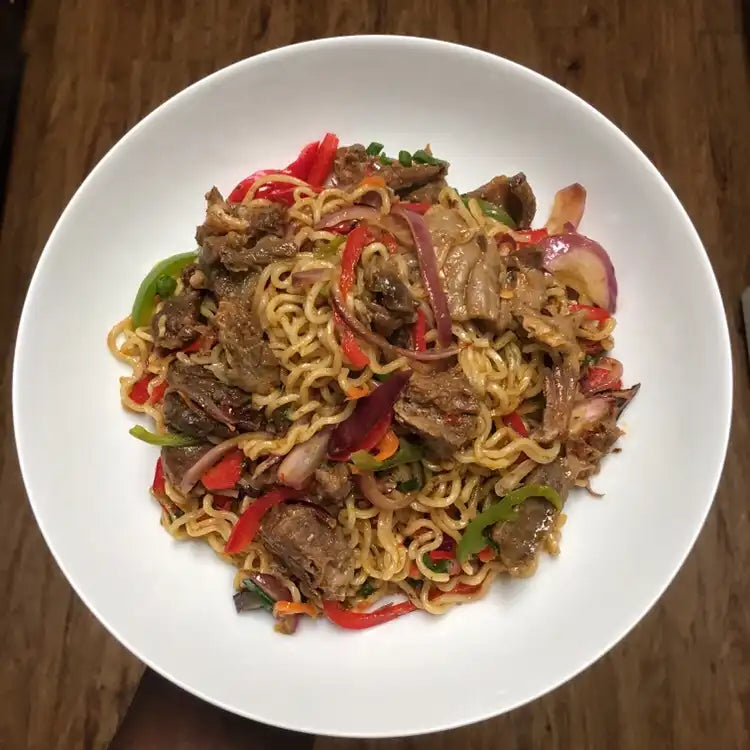 *drops plate* I honestly just finished eating this and I have to confess. This is the best plate of Indomie Noodles I have ever made. If you guys notice I have never blogged about Indomie Noodles but this one deserves it! It deserves some accolades!
The backstory to this: Each time I make Asun, I save the bones with a little meat clinging to them. So after getting two bags, I decided to roast them in the oven and boil them for 3/4 Hours and made a Goat Meat Stock. Then I proceed to slide the meat off the bones and ended up with a bowl filled with soft, succulent tasty goat meat. Gosh!
So I look around my kitchen and decide to elevate my Indomie with it! And also use Sambal Oelek in it for that spicy and flavorful kick! Boom great idea. My tummy was ready!!
Ingredients
1 Onion
Olive Oil
Bell Peppers
Spring Onions
Sambal Oelek
3 tbsp of Butter
Indomie Noodles
Chopped Goat Meat
Look how short and easy this list is. This dish is about to change everything.
Directions
Add 4 Tbsp of Olive Oil to a wok and heat it. Add goat meat and half of the onion to saute and cook for 4 minutes on high heat. Don't steal some of the meat from the pan. YOUR TONGUE WILL GET BURNT. 
Add 3 Tbsp of Sambal Oelek (or blend ginger, garlic, and chiles) to the goat meat and toss properly. It might begin to look like Asun! Your ancestors are nodding in approval at this point. If you aren't using Sambal to cook I think you should start! 
Boil your noodles for 2 minutes max, you don't want soggy noodles, strain and set aside. Add your cut-up peppers and the rest of the onion to the pan, along with the noodles. 
Add a knob/3 Tbsp of butter and toss properly and let this simmer for 1 minute on medium heat. Add spring onions to this and serve! A life-changing meal you have there! Thank me later!