Recipes
Spicy Coconut Milk Herb Turkey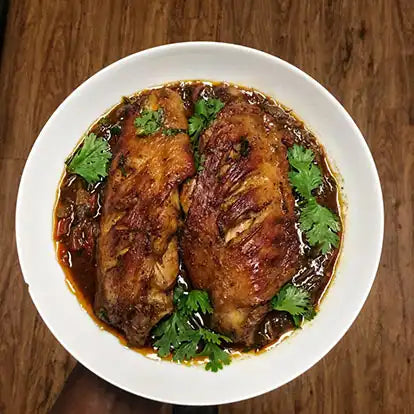 Exactly 30 minutes ago, I served up this Spicy Coconut milk herb turkey dish, and I told myself I would only eat half of it.
You guessed right, I ate all of it. It was so damn good, this was me after the first bite.
For the first time in forever, I found turkey wings at Walmart. I looked at them like a kid looks at a bicycle he's always wanted, wrapped, under the Christmas tree.
Well, I saw them and I swore I was going to make the best out of it. I was thinking about what to do with it. I knew I wanted it packed with flavour, fresh, spicy, sweet and in a sauce.
So I thought, marinate it exactly that way. That blend of coconut milk, cilantro and pepper needs to be studied in school. And I added some brown sugar for that sweetness. When I tell you this was perfection I promise you I am not lying at all!
Ingredients
Salt
Thyme
Green Onions
2 Red Onions
2 tsp of Curry
4 Garlic Cloves
4 Turkey Wings
4 Red Habaneros
A Thumb of Ginger
A Bunch of Cilantro
2 Red Bell Peppers
2 tsp of Black Garlic
1 Can of Coconut Milk
2 tbsp of Brown Sugar
2 tsp of Cayenne Pepper
Made the marinade and left marinating overnight, had sweet dreams about it, daydreams at work and on the way home and when I finally got to it.
It was a WRAP!
The beautiful thing about these Coconut Milk Herb Turkey wings is, that you only season the marinade and that's it. Without further ado, I will get to it and save you the tales about how I finished one of the wings before I got it in the sauce, some other day!
But yes,  this recipe for the Coconut Milk Herb Turkey is super easy because I used the marinade the wings baked in to make the sauce. Easy peasy! Also, here is a link to a newbie chicken wing recipe I made years back! Look at the growth!
That is it, for everything. It did take me two days because, honestly, I was trying to figure out what to do with it. 
Directions
In a blender, add green onions, cilantro, thyme, coconut milk, Brown sugar, red habaneros, curry, 1 red bell pepper, ginger, salt, one red onion, and cayenne and 2 garlic cloves.
Blend till smooth. Marinate the wings in this and leave to sit. 
Now, take your wings out of the marinade brush them off and we are going to brown the skin. 
Heat some oil in a pan and sear the skin till it is golden brown. 
Pour marinade into an oven-safe pan, place wings in the pan, cover with foil and bake for 70 minutes at 450F. Save the liquid left in the pan after baking.
When that is done, slice 2 garlic cloves, half a thumb of ginger, half a red onion, green onions, and half a red bell pepper. 
Saute your garlic and ginger, pour the marinade into the pan and let this cook for 4 minutes. Add your red onion, green onion and red bell pepper and turn off the heat. 
Place your wings back in and you are done. 
I had this with Basmati rice and it was a winner.