Recipes
Spicy Chicken And Beef Chunks In A Creamy Coconut Sauce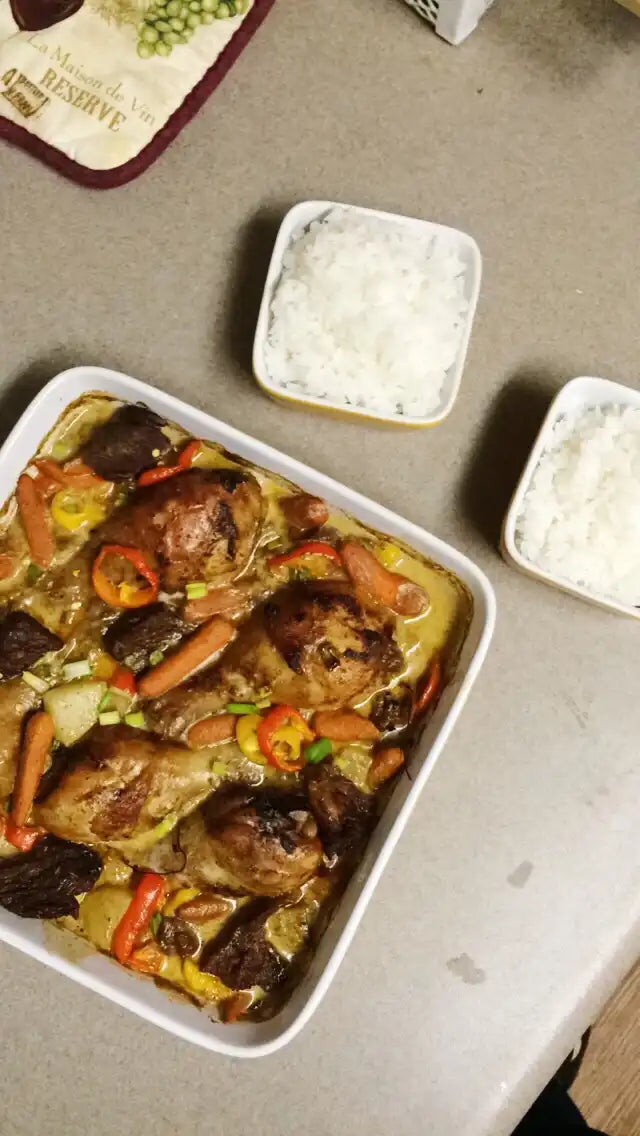 Sitting in the library for eight hours and I had just munched the last of my Danish Cookies cookie as I was about to wash it down with the rest of my orange juice and my hand knocked down the pack and it spilled…I was wondering why bad things happen to good people. My throat dry and parched I saw my phone  light up and it was a notification that said "Big Ups to your blog mane, I tried the Bacon and Shrimp Pasta toss" along with a picture! It was really beautiful and I was super excited people are really reading this blog and cooking! Its an emotional moment as i type this *wipes lone tear of joy* *gives speech of thanks*… Thank you guys the feedback makes me happy! *cleans up spilled orange juice*
Today's recipe is not a curry, its not a soup, its also not a casserole (okay what is it?) It is whatever you think it is.
Ingredients
Chicken Drumsticks
Beef Parts
A can of Coconut Milk
Sweet/Bell Peppers
Baby Carrots
Potatoes
Ginger
Green Onions
Cayenne Pepper
Thyme
Curry
Salt and Seasoning cubes
Preparation: 20 Minutes       Cooking Time: 1 Hour
Directions
1. Clean Chicken drumsticks, cut up the beef into chunks, make a  blended marinade of ginger, cayenne pepper, thyme, curry, seasoning cubes, salt and a quarter of the coconut milk can. Set in a pan on really low heat and cook for 20 minutes or till it is half done then set aside.
2. Peel Potatoes and cut them in inch cubes and also cut the baby carrots, bell or sweet peppers and green onions.
3. From the pot drain the chicken and beef stock and add the rest of the coconut milk with the broth, taste to make sure its still well seasoned as you wish.
4. In an oven safe dish, arrange the chicken drumsticks, beef chunks, baby carrots, potatoes, bell/sweet peppers and pour the coconut milk+meat broth over it and sprinkle the green onions all over.
5. Heat an oven to 450F and place the dish in it for 40 minutes. And by then it would be completed.
Made this dish off the top of my head and this yielded a really awesome meal, it could be eaten alone but I had this dish with some steamed Jasmine rice. Perfect! Its a mix of beautiful aromas and flavors from sweet to a little spicy kick. I honestly enjoyed cooking and of course eating this dish.