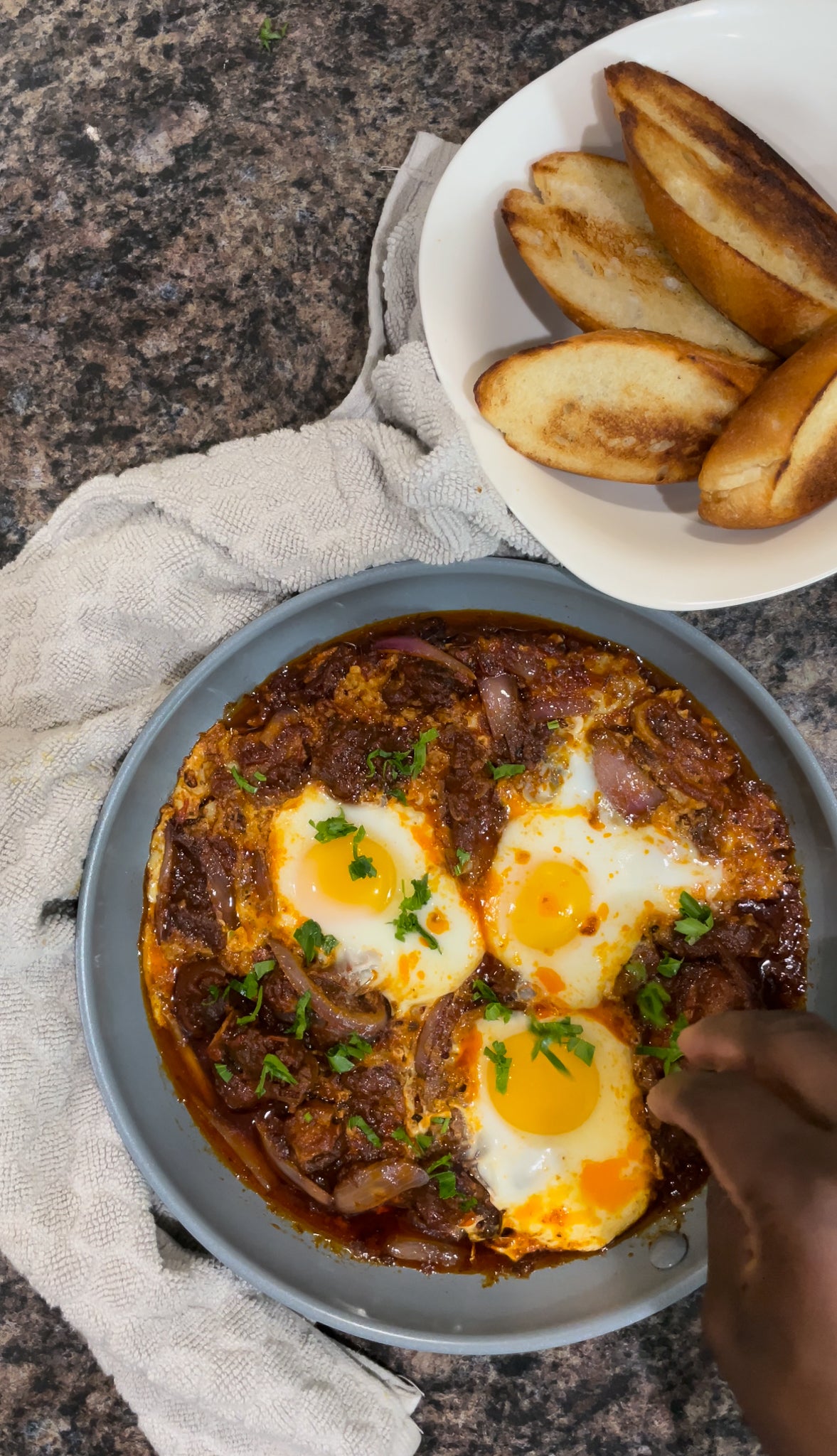 We all know weekends are for late breakfasts or early lunches, and I think they call it brunch! Today's recipe is a twist on the popular brunch dish - Shakshuka with Goat Stew. This dish is easily achievable in about four steps tops, giving you room to get back to doing your laundry or watching sports on a lovely day.

Okay, so what is shakshuka to start with?
Shakshuka is a Maghrebi dish of eggs poached in a sauce of tomatoes, olive oil, peppers, onion, and garlic with lots of spices.

We will be using a base of Goat Stew from the store (cut camera, this is an ad) for this recipe. Ideally, you can use any stew base made from tomatoes and peppers and achieve a great result. Alright, let's get into it. 
Ingredients
3 Eggs
1/2 Onion
Goat Stew
1 tbsp of Oil
1 tbsp of Butter
French Bread/Baguette
2 tbsp of Chopped Parsely
Directions
In a heated pan with oil, add sliced onions and saute for 2 minutes. 
Add a quarter of your goat meat stew pack to your pan.
Let this simmer for 3 minutes on medium heat.
Crack your eggs into your pan.
Reduce the heat, cover and let simmer for 4-5 minutes.
Cut your bread into slices, melt some butter in a pan, and toast your bread on both sides in the pan.
After 4 minutes, check on your masterpiece. If you want your eggs cooked more, let it continue for two more minutes.
Garnish with chopped parsley, serve and enjoy!