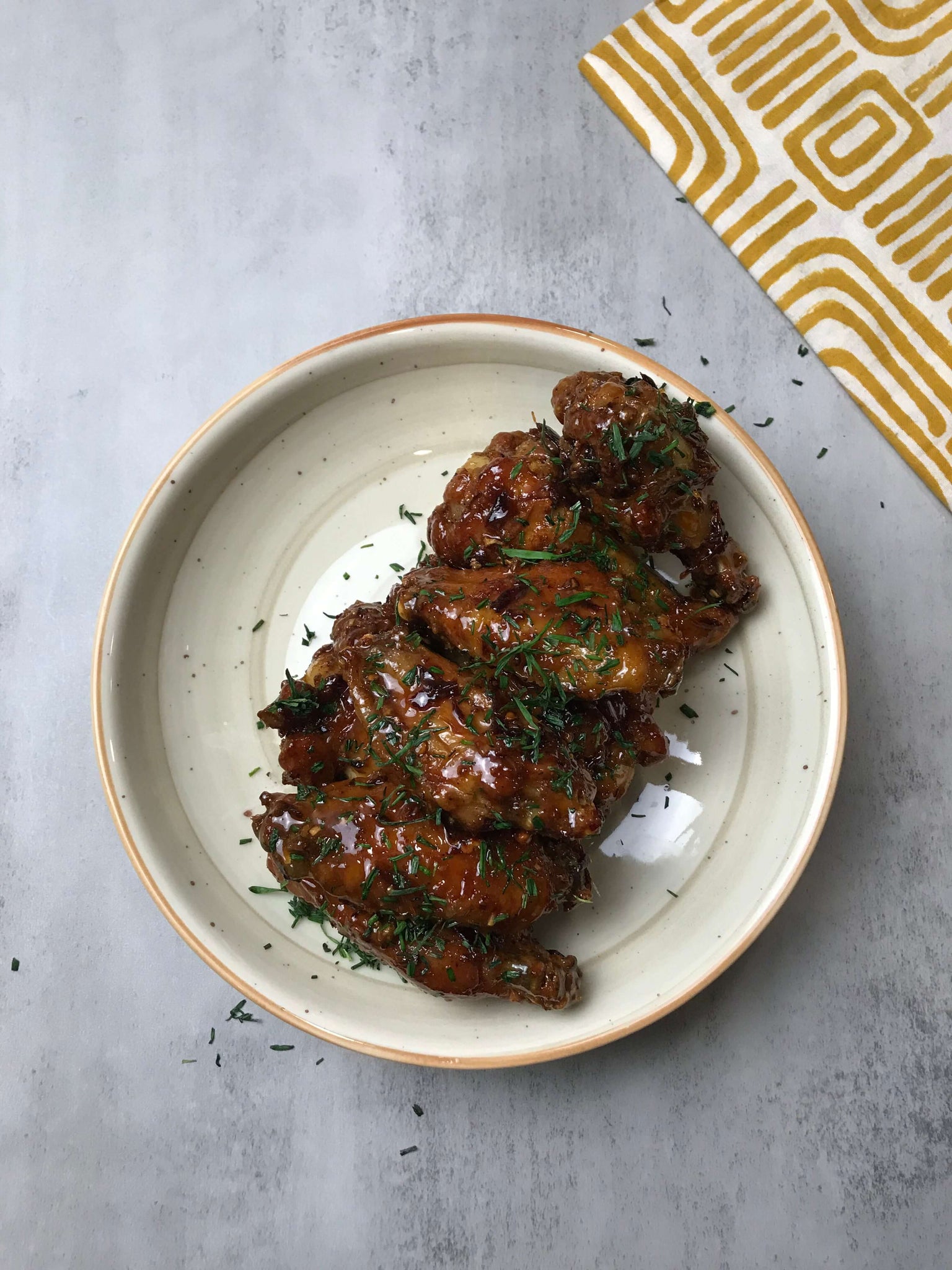 Written By: Bethany
Wingstop Who? These Rodo Honey Wings will knock your socks off! I know that is a wild way to start a blog post about wings, but we are super serious about wings over on this side. Wings have saved the day many times - birthdays, house parties, anniversaries, picnics, work meetings… So you know how essential wings are, and more importantly, they must be made WELL!
This Rodo Honey Wings recipe is a gift that will keep giving, and you get to learn many things at once (bookmark it cause you will be back soon).
You know a bomb seasoning blend recipe, a delicious sweet and spicy glaze, and you also get an A1 recipe for crispy wings that also taste like you own a chicken wings shop!

Let's get to it!
Ingredients
2 tbs of Butter
4 tbsp of Honey
3 Cloves of Garlic
Chives/Green Onions
2 tbsp of Cornstarch
1 tbsp of Rodo Crisps
10 -12 Chicken Wings
1 Cooking Spoon of Oil
1 tbs of Ginger Powder
1 tbsp of Onion Powder
1 tbsp of Garlic Powder
1 tbs of Bouillon Powder
1 tbsp of Smoked Paprika
Directions
Clean and cut up your chicken wings. 
Marinate them in the seasoning blend (All of the Smoked Paprika, Ginger Powder, Onion Powder, Garlic Powder, Bouillon Powder) for at least 2 hours or overnight. 
Toss the wings with your cornstarch before you bake them in the air fryer.
Place the wings in the air fryer at 375F for 25 minutes. 
After 25 minutes, flip your wings and let them air fry for another 10 minutes.
To make your glaze, in a pan on medium heat, add your butter to melt, garlic, your honey, and the rodo crisps. 
Once your wings are crispy (they should be at this point). 
Add the crispy chicken wings to the glaze on medium heat and toss till every smidgen of the wing is covered. 
Chop up some herbs, chives, or onions (or whichever you like) and sprinkle that over the wings. 
You can even hit it with some lime juice for some razzle-dazzle. Enjoy!