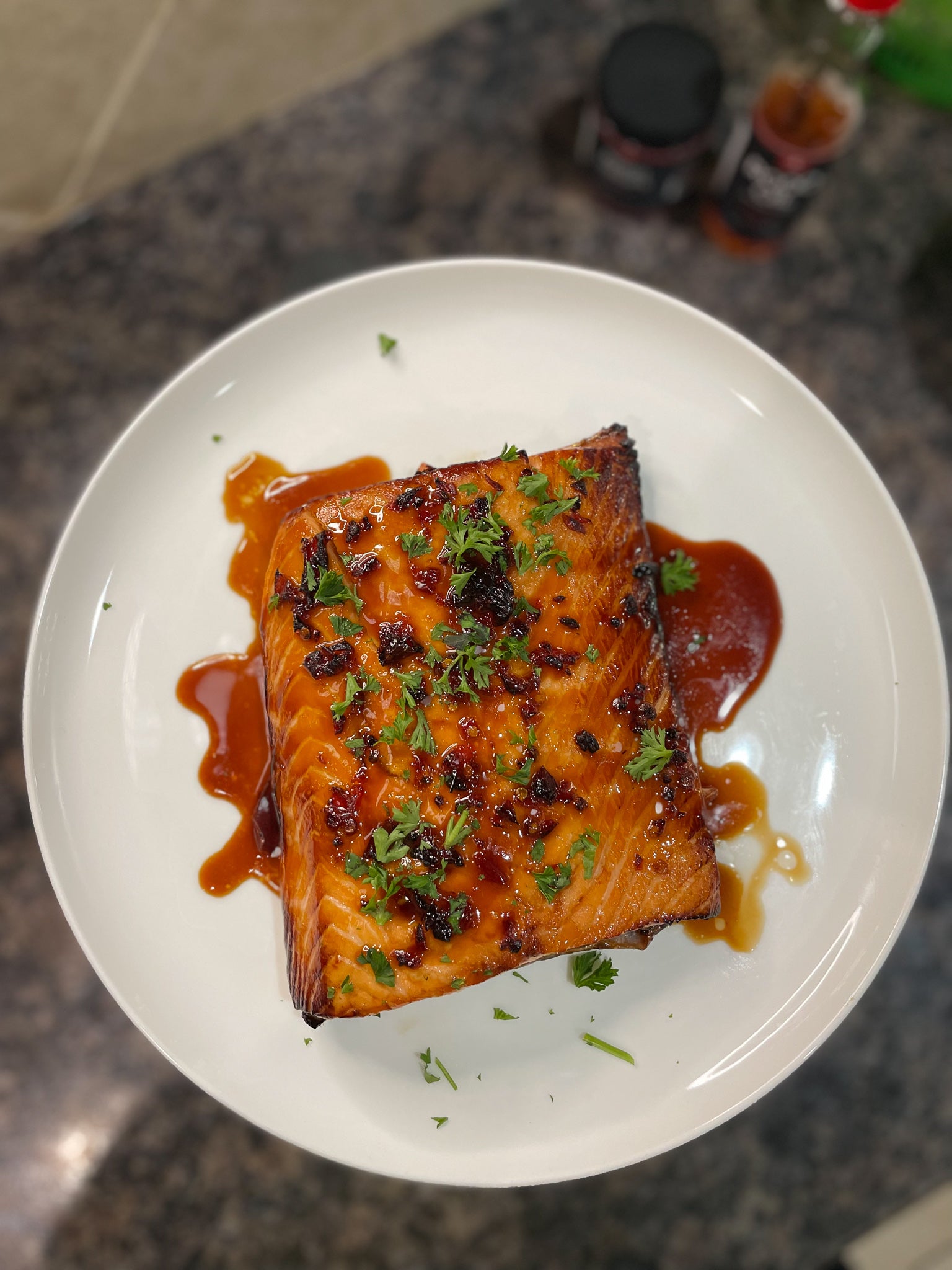 Did you go - "A recipe finally!" or "What is this?" or "hmm"?
The answer to all those reactions is - yes, this Rodo Honey Soy Salmon is a recipe that you will never EVER stop making. We felt if we were coming back with a recipe, it had to be top-notch, unforgettable, and super easy to follow, and this recipe delivers just that!
This recipe is perfect for weekday evenings or the next big occasion you are attending. If you take this to a potluck, you will need to teach people this recipe after.
Spoiler alert: there are two more recipes to come. Yeah, we like to spoil our readers like that.
This Rodo Honey Soy Salmon recipe uses


Just 4 Ingredients.
It is a 2-in-1 recipe.
It takes approximately 25 minutes to make max.
Ingredients
1 lb of Salmon
1/2 Cup of Honey
1/2 Cup of Soy Sauce
2 or 3 tsp of Rodo Crisps
Now to introduce the elephant in the Room - "Rodo."
Rodo refers to the fantastic product - Rodo Crisps made from Scotch Bonnet Peppers (shameless plug, you can get it in the store). Rodo Crisps adds such a depth of flavor to this recipe.
Let's get to making Rodo Honey Soy Salmon!
Directions
In a bowl, combine equal parts of soy and honey. Add rodo crisps (according to spicy tolerance, I go for 1 tsp to each half cup of soy/honey) and whisk properly. You have just created a monster marinade! (Recipe 1)
Clean your Salmon and pour 1/2 a cup over your Salmon and let it sit for 10 minutes. 
Preheat your air fryer or oven to 390F and place marinated Salmon on a tray or in the air fryer for 13 minutes. 
First, add some of your marinades to a pan, and let it cook over low heat till it starts bubbling. It should be a little thicker and cling to the back of a spoon. (Recipe 2) 
Take out the Salmon from the oven and pour the cooked marinade over your Salmon. Sprinkle some fresh parsley, and boom, you're done. 
You can enjoy this with potatoes, shredded in a salad, eggs, or anything you want with Salmon. If you have some leftover marinade, you can use this to marinate any proteins you love or make it into a sauce to toss wings or make stir fry.