Recipes
Red Thai Curry Chicken Pasta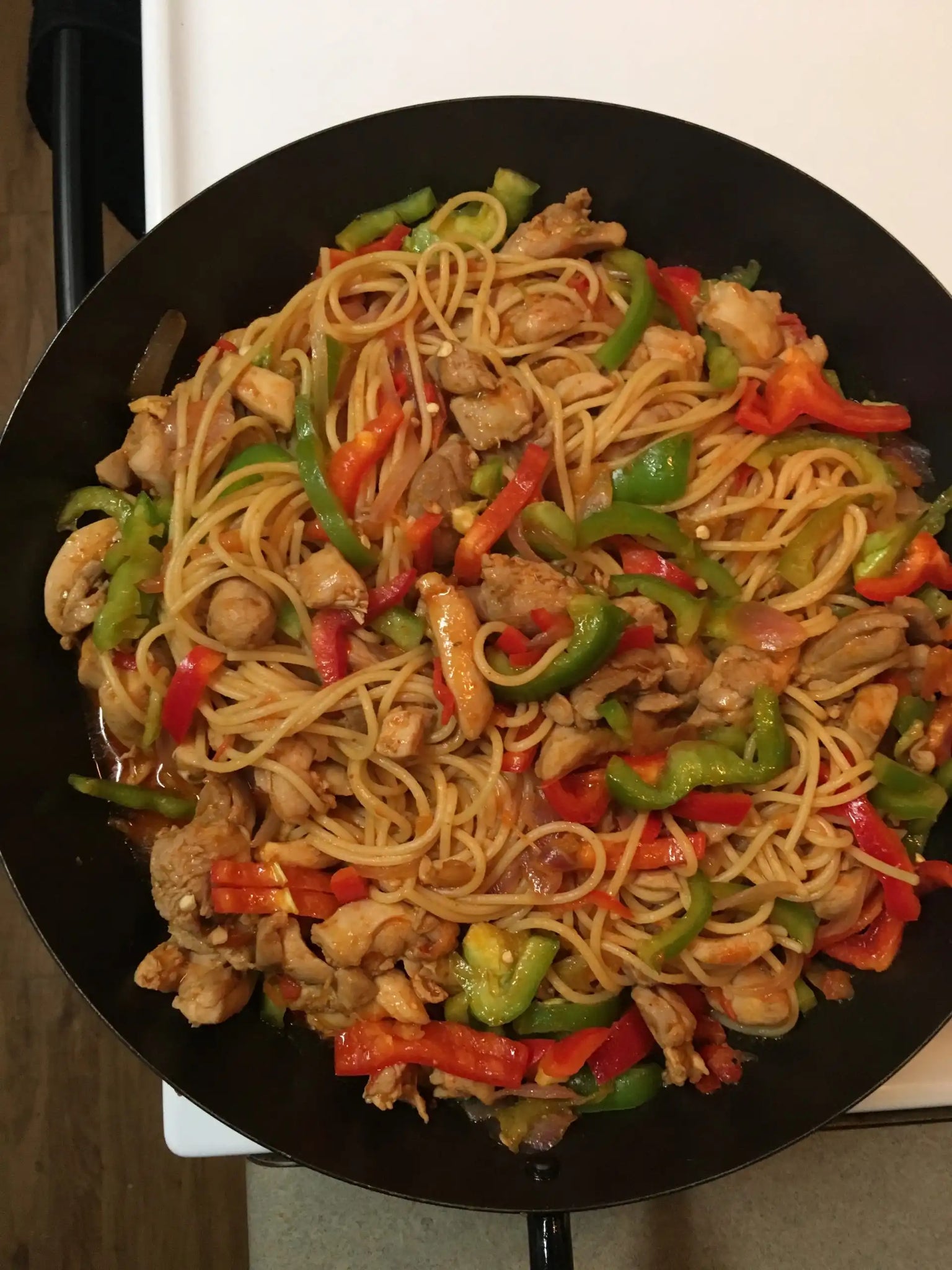 I must confess. I have to give a backstory to this dish.
I had friends over and they wanted Pasta. I had items to make a stir-fry but I needed the Pasta in some sort of sauce. Quick lazy thinking brought about this dish; I wanted different textures, wanted a chunky sauce without having to use a blender.
I decided to cut up fresh tomatoes, onions and one pepper, pan fry them till the tomatoes/onions go soft, release its liquid and become the sauce. It worked! I had a problem… it did not have that bright red color. I looked in my pantry and saw a jar of Thai Red Curry Paste. Perfect! It has that ability to color a sauce, thicken and add the Asian flair in a dish.
Ingredients
Salt
Cooking Oil
3 Tomatoes
1 Purple Onion
Pasta -Spaghetti
1 Red Bell Pepper
1 Habanero Pepper
1 Green Bell Pepper
2 Seasoning Cubes
Thai Red Curry Paste
4 lbs of Diced Chicken Breasts
It tasted really really good. I was surprised myself as it is a fusion of random elements. I didn't even know what to call it, so I just named it after three of the ingredients in the dish. Lazy again *facepalm*. 
Directions 
Cut your chicken into bite sized pieces, season with salt, thyme and curry let sit for twenty minutes. Add two cooking spoons of oil to a pan and cook the chicken for about 9 minutes on low heat.  
Cut your tomatoes, onions and habanero pepper in thin strips and add it to the cooking chicken. Cover the pan, on low heat and cook till the tomatoes have gone soft and this whole mix (chicken, tomatoes, onions and pepper) has released all its water.
In a pot boil about 5 cups of water with salt, 2 tablespoons oil and cook your spaghetti in this. When it is cooked al dente, reduce the heat but leave the pasta in the water. Why? I'll explain.
Check on your boiling sauce then add 2 tablespoons of Thai Red Curry Paste. You will see the sauce become a bright red color and thicken a little. If you don't have Thai Red Curry you can use canned tomato paste and add some seasoning cubes! 
Now with a tong, transfer your spaghetti from the water to the sauce, but as you do, do not drain all of the pasta water let some of the pasta water go in the sauce. Pasta water is starchy it binds, enhances flavor and adds more character to your sauce. Mix properly till every part of the pasta is coated. Let the pasta cook till it is done in the sauce. 
Lastly, add your already cut (julienned) Bell peppers, toss and mix some more, then let simmer for five minutes on low heat. Done!  
Enjoy!