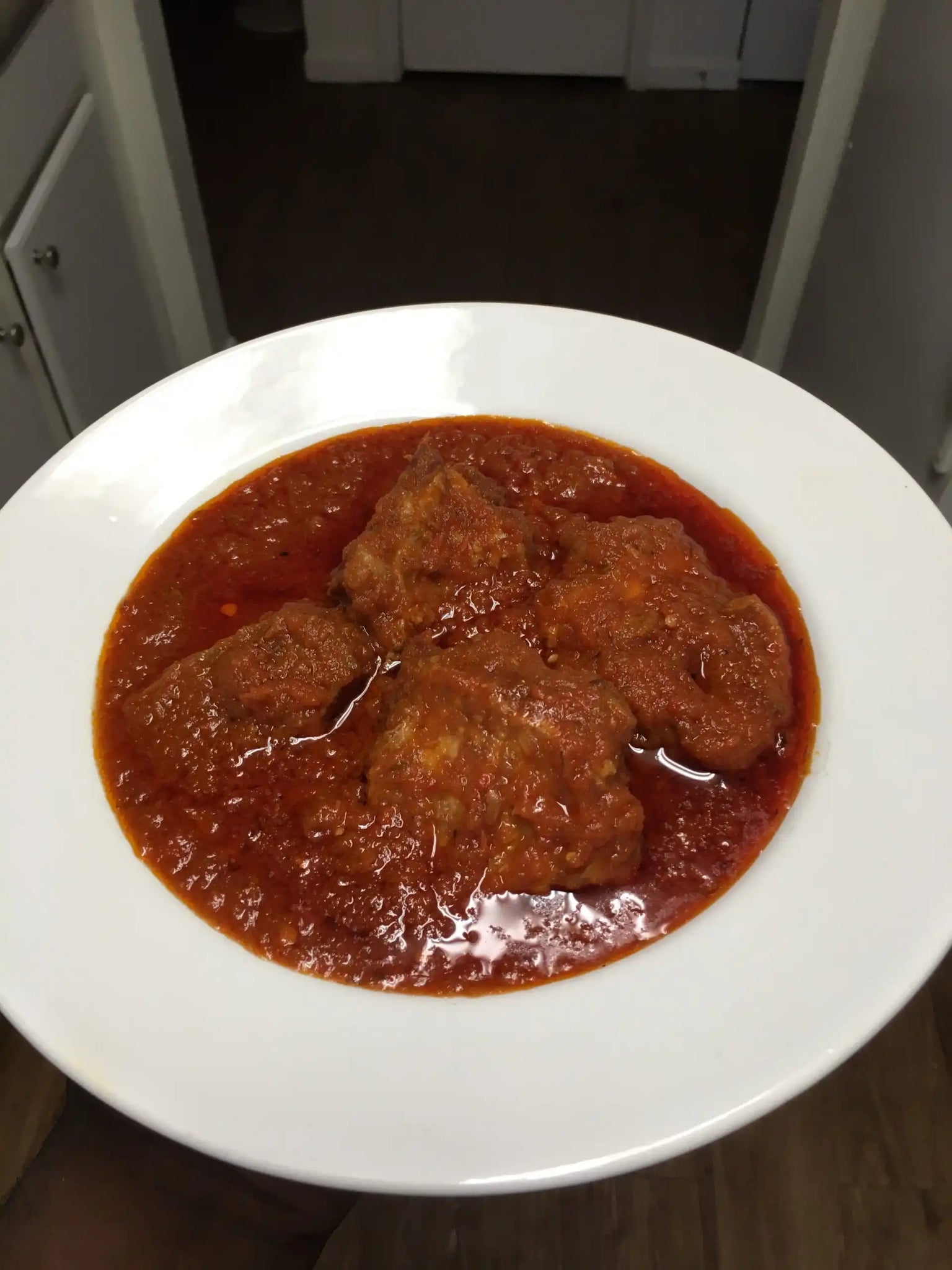 *skips introductions and greetings*
Why? Because we aren't strangers anymore. I totally forgot to post a recipe last week. I spent my time sleeping. It's okay to sleep right?
Today's post is one of the most common things you will find in Nigerian homes; Stew! It is actually called Obe-Ata (Pepper Stew in literal terms). Nigerians make stew in various ways, it is one of the easiest things to make. It was one of the first things I learnt, well after knowing how to cook rice. 
When I came to America, I noticed Mexicans always roasted their peppers before they used them for salsa, and I wondered why. Throwback to Nigeria and I remembered older women used to spread the peppers in the sun or on the roof to get in contact with direct heat before they blended them. This heat increases the flavor, adds that distinct, sweet smoky flavor to the stew. When you roast the peppers before blending asides from making it easier to blend, the flavors could make someone sell their birthright to you. JK.
Ingredients
4 Onions
1 Cup Palm Oil
4 Cups Cooking Oil
4 Red Bell Peppers
5 Seasoning Cubes
1 Can of Tomato Puree
A Loooot of Tomatoes
2 Handfuls of Habaneros
Directions
Cut your tomatoes, onions, and peppers as much as you can. I was lazy I didn't cut a lot. It's okay to be like me. Put them on a tray and set them in the oven on 450F for fifteen minutes. Bring it out when slightly charred.
Now pay attention, you want to mix your tomato puree with some water and blend with it so you aren't blending with just water but with diluted tomato puree. 
This incorporates everything, everything cooks at the same time, adds to the red color, and helps it blend better and smoother. 
In a pot, add some cooking oil and some palm oil and heat this. I cooked a large quantity of stew so I used 4 cups of cooking oil and 1 cup of palm oil. Cut up some onions and fry on low heat to release the flavor.  
Pour the blended mixture into the hot oil (I love the sizzling sound it makes when the pepper hits the oil). Now you want to add your seasoning, thyme, curry, and some salt to taste. Let this cook for 30 minutes.
Halfway into cooking, add your meats, I used goat meat and turkey. Two different types of meats with distinct flavors. 
Amazing! Let this cook for 30 more minutes on medium heat. NB: If you are not using a nonstick pot ensure to stir it occasionally to avoid it sticking and burning at the bottom. 
Hack: I've realized over years of cooking stew that, when it is cooked the oil comes to the top of the pot. Okay, that's gonna be $5 for the tip. Contact me for payment info. Thanks. Let it simmer on low heat. Enjoy the stew with anything!