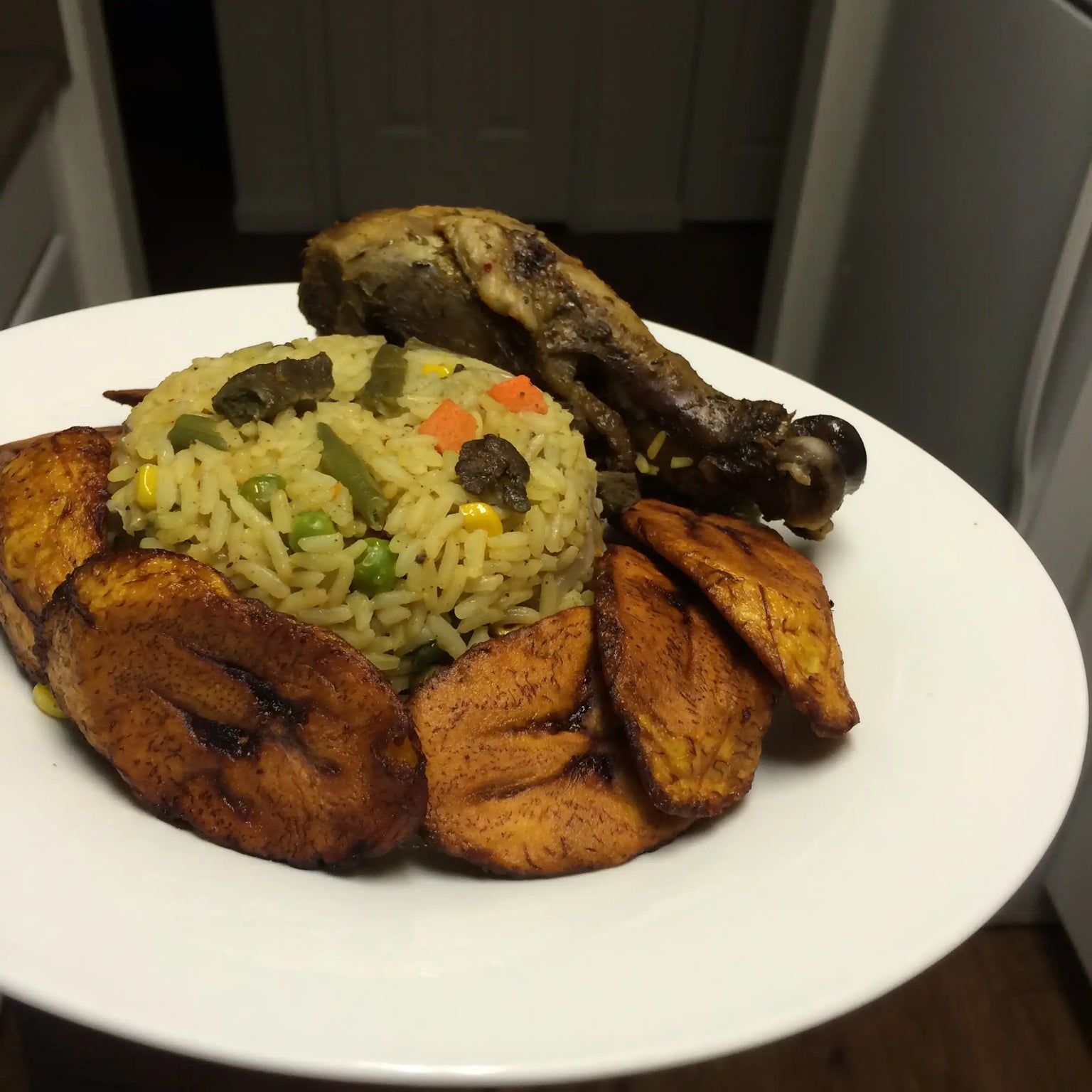 Well, this semester I have decided that I will do a post every (other) week. Can I get an Amen? Okay, I will try but I am ready for it.
So today's recipe; I was by myself in my house cooking Fried Rice to take to church and recording on my snapchat, a couple people asked if I had that recipe on the blog and the answer was a disappointing no.
So I decided, Tobi you will make Fried Rice again, take photos step by step and post it on the blog when you are done (and you will not disappoint people when they ask for the recipe).
This is just how I make mine and not an original recipe because Fried Rice has existed before the birth of the Internet. Rumor has it that Fried Rice has been used to settle wars. It is the peaceful brother of Jollof Rice, because nobody fights over who's own is the best.
Ingredients
Salt
Curry
Thyme
1 Red Onion
Vegetable Oil
4 Cups of Rice
3 Chopped Habaneros
2 Cups of Chicken Stock
3 Cups of Chopped Liver
5 Cups of Mixed Vegetables
These are the exact quantities I used, if you want to make more or less and still want it as rich you could divide or multiply the measurements. Simple right?
Most people try to avoid making Fried Rice but it is really very very easy. I can do this with my eyes closed…Just kidding nobody can cook with their eyes closed.
Directions
Parboil your rice and run it under cold water and rinse it just when it is half done.
Pour your chicken stock in the rice add about 3 Tsps of Curry and 1 Tsp of Salt and 2 Tsps of Oil and boil on medium heat. NOTE: The key to good Fried Rice is the grains of rice should not be overdone not soggy, not too hard. This is because you don't want it to look like mash or want it to be as hard as chicken feed. 
When that is done cut up your onions and pepper and divide them in two. I used frozen mixed vegetables because they are cost effective and have sweet corn, green beans and carrots. Time saved in cutting them up.
Now next you divide all the ingredients in two parts because you will do this in two batches or more, except you're hungry then two batches.
In a pan with about two cooking spoons of oil (you don't want your rice swimming in oil, Fried Rice not Michael Phelps in a pool of oil), on medium heat throw in your peppers, onions, mixed vegetables and liver and let simmer. Add some salt, curry and thyme.
Add half of the rice then stir it in properly (you don't want all the veggies in one part like a salad). Let simmer for two minutes. 
Repeat same thing with second batch.
Guess what? Fried Rice is ready! Fry some plantain and be happy. They are best friends only right you eat them together.