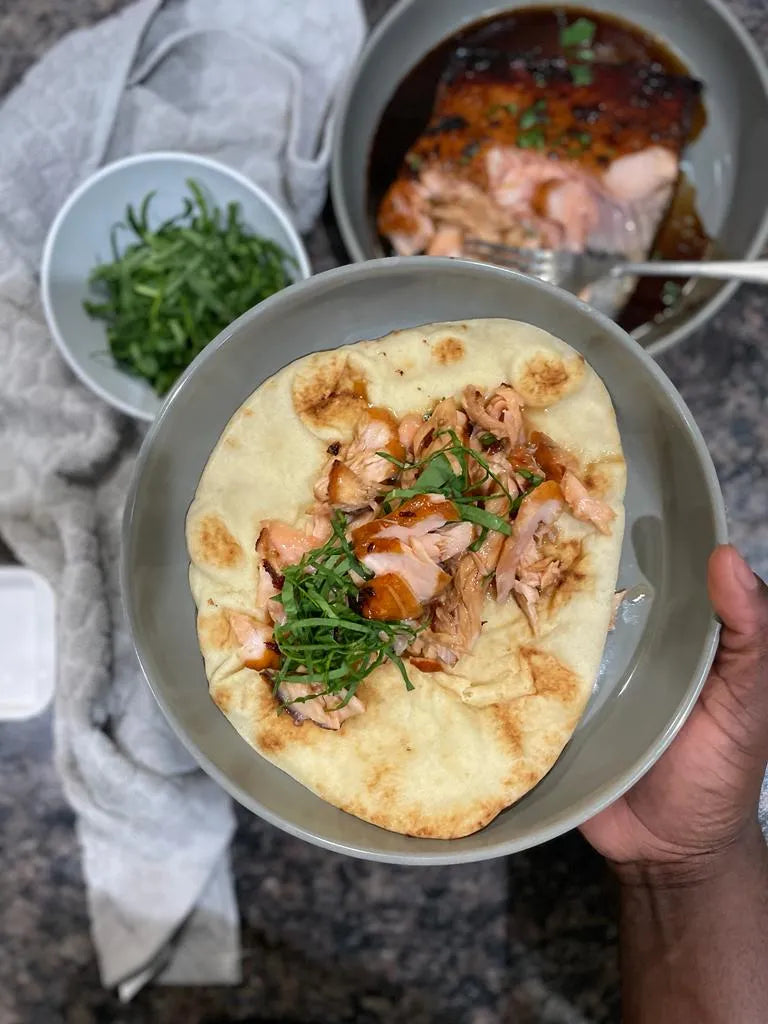 Some things are best when experienced. A good example will be this wrap made with Rodo Honey Soy Salmon and Naan.
Think about these flavors - heat from Rodo Crisps, sweetness from honey, umami from the soy sauce, all in a flaky salmon wrapped in a soft and buttery wrap... Yeahhhhh, you have to experience it, and it's heaven in many bites. This recipe repurposes an earlier recipe for Rodo Honey Soy Salmon on the blog and uses a multipurpose and tasty marinade made from Honey, Soy Sauce, and Rodo Crisps.
Suppose you don't know what Naan is. In that case, it is a leavened, oven-baked, or Tawa-fried flatbread found in the cuisines mainly of Western Asia, Central Asia, the Indian subcontinent, Indonesia, Myanmar, and the Caribbean. If you do not have Naan, any wrap will do.
Ingredients
1 lb of Salmon
1/2 Cup of Honey
2 Pieces of Naan
A handful of Spinach
1/2 Cup of Soy Sauce
2 or 3 tsp of Rodo Crisps
Luckily, the Honey Soy Salmon and Naan wrap items are not a lot, making it easy to incorporate into your next grocery run or plan for the groceries you already have. Let's get to it!
Directions
In a bowl, combine equal parts of soy and honey. Add Rodo crisps (according to spicy tolerance, I go for 1 tsp to each half cup of soy/honey) and whisk properly. 
Clean your Salmon and pour 1/2 a cup over your Salmon and let it sit for 10 minutes. 
Preheat your air fryer or oven to 390F and place marinated Salmon on a tray or in the air fryer for 13 minutes. 
First, add some of your marinades to a pan, and let it cook over low heat till it starts bubbling. It should be a little thicker and cling to the back of a spoon. 
Take out Salmon from the oven and pour your heated marinade ver your Salmon. Sprinkle some fresh parsley. Heat your Naan, add fish and chopped spinach, and have a beautiful, delicious Honey Soy Salmon and Naan wrap!