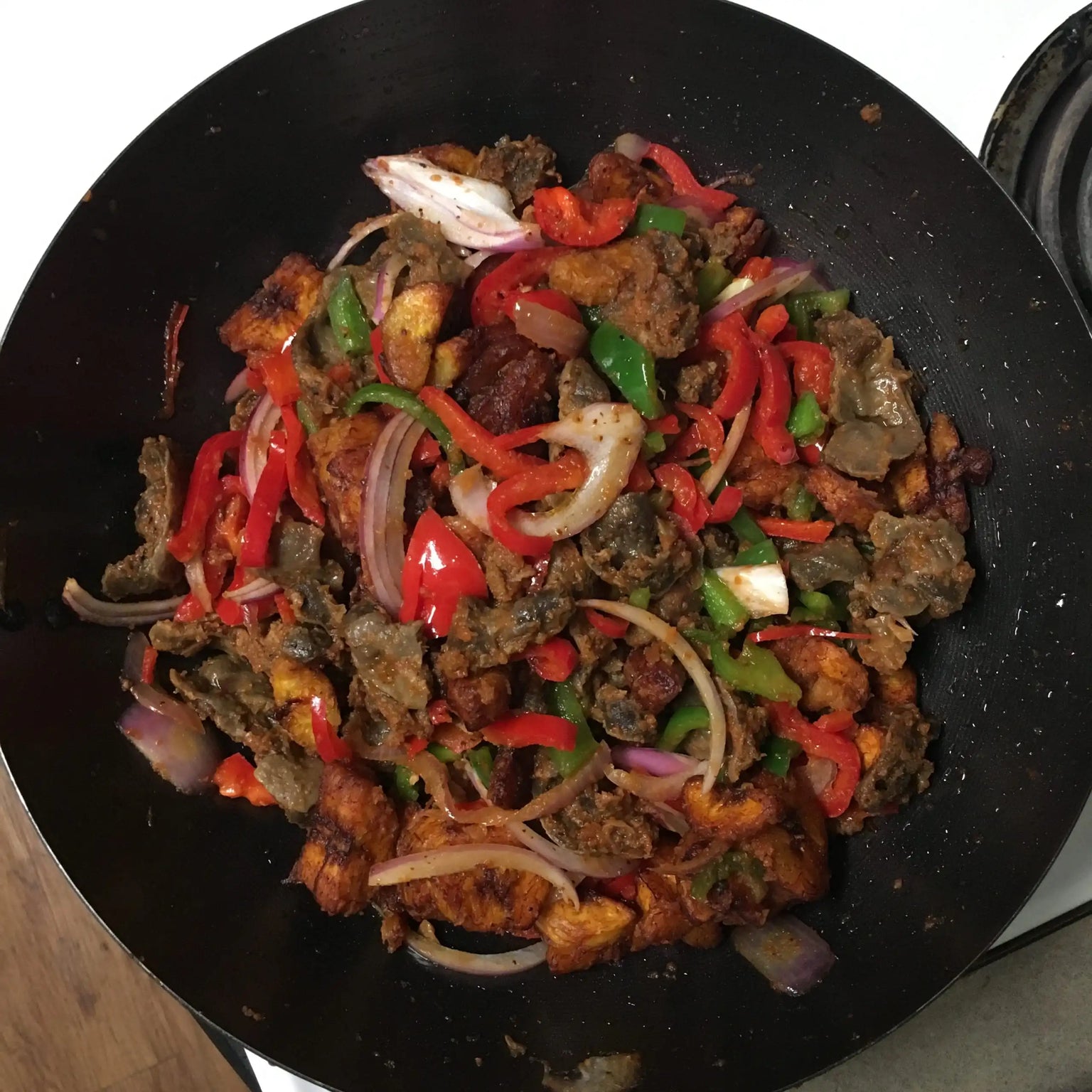 Hello Guys,
I am back again. Glad to tell you I just finished my MSc. with honors. I hope that will make you forgive me for the long absence. Yes, it did! Thanks. It has been a long, fun and rough ride!
Well, no more excuses from me. Today's recipe is one that I find very interesting and mouthwatering anytime. Gizdodo!
It is a very easy recipe to make and is the perfect main dish, side dish or "I-want-to-eat-late-but-not-feel-guilty" dish.
Gizzards are a good source of protein. Plantains are a good source of iodine, magnesium, and protein as well! The bell peppers also are a great source of vitamins B2, B6, C and E (I actually googled it, I didn't do nutrition in school). Plus, the crunch gives your mouth a workout too. Dish justified.



Ingredients
3 Onions
7 Plantains
5 Tomatoes
4 Bell Peppers
5 lbs. Gizzards
4 Seasoning Cubes
3 Spoons Cooking Oil
Look at this beauty with all its elements! 
Directions
Wash and clean out gizzards thoroughly. Chop up an onion and habaneros, add some salt and boil on high heat until the gizzards are soft. This should take between 25-39 minutes (the missing minute is the time you spend eating from the pot). Once the gizzards are soft, drain stock, and fry lightly to crisp the outsides then set aside.
In a blender, puree tomatoes, onions and one habanero finely. Bring this blended mix to boil in a sauce pan and then set aside.
Dice ripe plantains into tiny bite sized pieces (you want it to be half or almost the size of the gizzards. Fry your diced plantains and set aside.
Chop your bell peppers and onions in juliennes (long thin strips) and set aside.
In a pan on medium heat add 2 cooking spoons of cooking oil, fry your pepper sauce with 2 seasoning cubes and salt. Then toss in your cut onions, gizzards and plantains in that order. It is important to note that you add these items in this order so as not to overcook the plantains or the bell peppers. 
Stir thoroughly so the pepper sauce lightly coats everything, then add your bell peppers last to retain its crunchy texture. Let simmer for 2 minutes and it's ready!