Recipes
Ginger And Garlic Butter Shrimp Pasta Stir Fry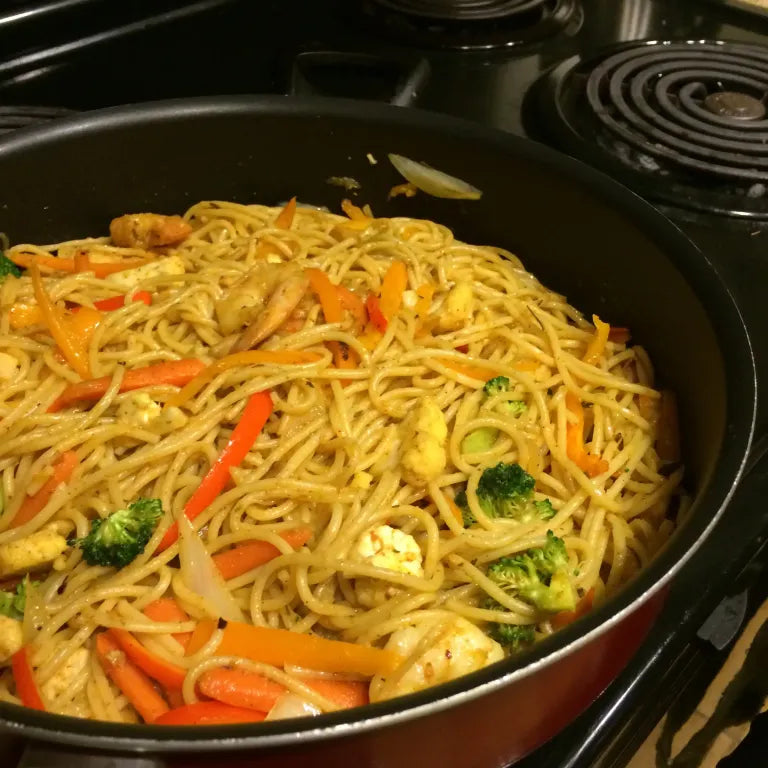 Hi guys, thing is I really suck at introductions. Good thing I got that out of the way. (That's my idea of an introduction)
I received a lot of visits after my first post which made my day a whole lot better!
This blog post is basically about three things, sorry four. Garlic, Ginger, pasta and then shrimp. And the good thing about this is it actually has just under 500 calories. *throws confetti in a gym*
Made this dish in an estimated and record breaking 25 minutes including thinking time and taking photos in between. I wish I was that time conscious but a soccer game as starting in 25 minutes so I timed myself. 
Ingredients
1 Clove of Garlic or chopped garlic
1 piece of ginger
1 Stick of butter or olive oil as a healthier option
Bell Peppers - Green + Orange + Red + Yellow
Broccoli
Wheat Pasta
Cleaned Shrimp
Cayenne pepper
Thyme
Curry
Salt
An Onion bulb
This is a really easy meal to make I would say I am very lazy but writing this post really makes me a hardworking person.  Here's the time saving directions to making this
Get up from couch
Put pasta into a pot with warm water and a little olive oil to avoid sticking and boil
Dab shrimp with paper towel to dry it (hah obviously)
Mix cayenne pepper, garlic powder, thyme, curry a little salt and slowly rub, massage and into the shrimp
Cut bell peppers and onions into thin slices uhm strips I meant
By now depending on how slow or fast you were your pasta should be cooked, but not soggy cooked put pasta in a strainer and let stand.
Toss a strand of pasta if it sticks to the roof I'm sorry you did something wrong
Melt stick of butter, chop ginger and garlic really finely you don't want a tuber of ginger in your mouth and stir in the butter. This gives the butter or olive oil the ginger butter aroma, taste and spice.
Put in your shrimp and reduce to low heat let it cook and toss it around to make sure the sides are covered. You want to make sure your shrimp is beautifully cooked, it is cooked when you see it all coiled up like a cinnamon roll. Trust me.
Pour in the peppers broccoli and onions and let simmer for 30 seconds then pour in the pasta
Toss everything and leave to simmer for another one minute
The butter and the moisture from the peppers and onions and also the shrimp gives it a sauce which ensures you don't have a dry dish.
Serve, take pictures and well you know what€s next. Eat. You can post it on Instagram after the meal.
If it did not taste as good as I made it sound or look. Don't bother visiting this blog again. Just kidding! Please try it some other time and visit this blog again. Thank you.
You got a covered photo as the featured image, now that the kids have stopped reading Shhh… here's the uncovered one.