Recipes
Efo Riro (Nigerian Vegetable Soup)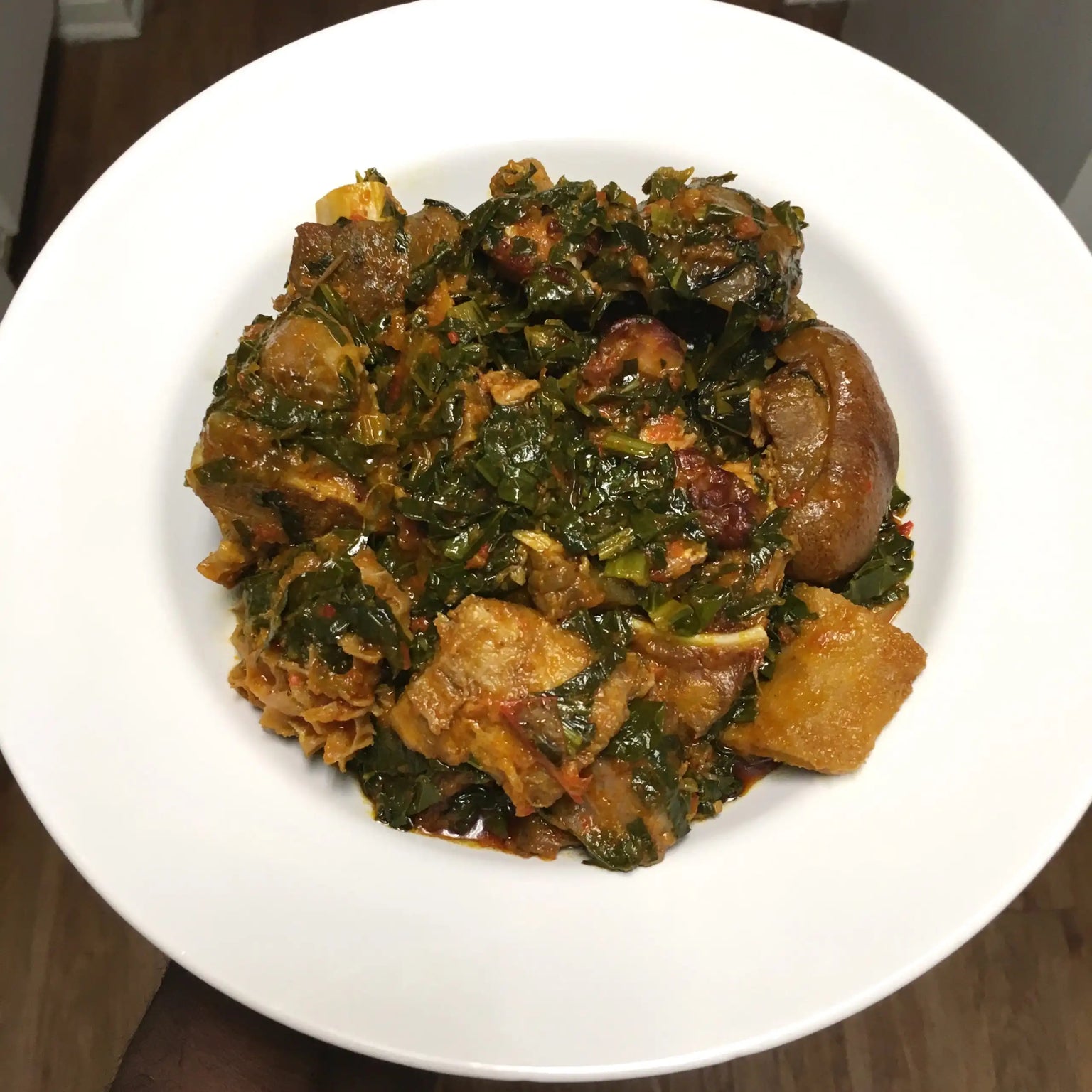 Second week back after a long break and I am here with another post. You can say I am on a roll. This is beginning to look like a #SoupSeries, so I will see it as that. Anything that has a second part has to be a series right? I have a third post coming up.
Today's dish Efo Riro; Where do I start from? Efo Riro is an elixir. You add four more years to your life after eating Efo Riro twenty-one times. It's a proven fact, look it up. Don't ask me where. There aren't a plethora of ways to make this. The method I will share with you is a trusted and proven.
To make this it is important to note that the key to making real good Efo Riro is – to use as little water as possible. Let's do this.
Ingredients
1.5 Onions
3 Maggi Cubes
2 Red Habaneros
7 Red Bell Peppers
3 Cooking Spoons of Palm Oil
3 Bunches of Mustard Greens
Smoked fish
Smoked Turkey
Shaki (Tripe)
Goat Meat
Ponmo (Cow Skin)
Directions
Roll up your sleeves and pray to the Efo Riro gods to give you a good process. 
Wash all of your meats and season with salt, Cameroon pepper, scotch bonnet, an onion bulb, two cloves of garlic and two Maggi cubes. Add about two cups of water and cook till desired softness. Don't finish it all in the name of tasting to see if it is cooked. 
To make a thick pepper paste, blend the peppers and onions with no water at all! (Please make sure you are using a strong blender). Pour this mix into a pot and boil till the water in it has evaporated. Cooking tip; when all of the water is out, you will see holes in the mix. 
In a pot, pour three cooking spoons of palm oil and heat it. Toss in some chopped up onions and pour in the reduced thick pepper paste you just boiled. 
Cook the mixture from above for five minutes, leaving the pot open (this is to let out as much moisture as possible) then add all your cooked meats to the pepper mix, stir it properly and let this cook for four minutes.  
Grab your mustard greens, this was my first time using mustard greens (I think they are collard greens cousins). Cut them up as finely or roughly as you want. And add this to the stew and meat cooking. 
All this point you want to make sure the ratio of vegetables to pepper sauce is perfect, not too wet or soggy.
Turn off the heat after two minutes so as not to overcook the vegetables. Premium Efo Riro. Testimony: I prepared and served this to four people. They all said the same thing; it looks like perfection and tastes like perfection. Just look at this.