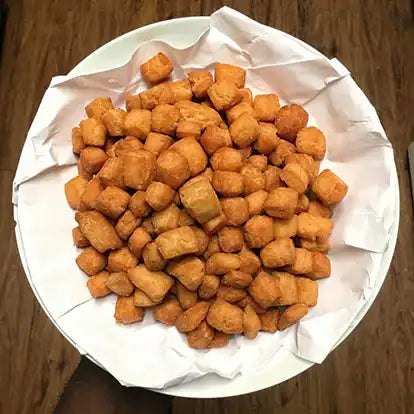 Hey guys, I know you are wondering why there are two posts in such a short time span. Maybe it is a bribe in advance, maybe I am just avoiding other life responsibilities. Who knows. I will try my best okay? #ContentSeason
Well, this post is here specifically for those that like to eat soft buttery, but crunchy chin-chin, and not rocks that make your teeth wonder what they did wrong. Yo, I have eaten chin-chin that left my buccal cavity with PTSD. But hey shout out to Mrs Smith (my mum) who came through with the 6-page recipe. Her recipe included statements like "remember when we used to cut it on the pastry table", so extra. I filtered all that and here's a super easy recipe for y'all.
The measurements in this recipe can be multiplied for more. These measurements will give you a good amount to last a week or two days depending on stomach capacity.
Ingredients
Oil
1 Egg
Arm Muscles
3 Cups of Flour
1/2 Cup of Sugar
Pinch of Nutmeg
1/3 Cups of Butter
1/2 Cup of Cold Milk
1/2 tsp of Baking Powder
Directions
In a bowl or Kitchenaid Mixer (this is such a great machine btw) combine all the dry ingredients and whisk while you sing "Together we made it". 
Cut up your cold butter in smaller pieces and rub it in till the flour mix is in crumb form. 
If using a mixer use paddle attachment and mix till butter is incorporated. 
In another bowl, crack an egg and add your milk and whisk together. If you are using your hands, make a well in the flour pour this in and mix till it all comes together. 
For Kitchenaid users, attach the dough hook, add milk and egg and let it do its work. 
When it all comes together, knead gently and make sure it is properly combined. Now make it into a ball and take a photo like this.  
Roll out your dough and now it is time to see if you could have passed Art class. 
Cut vertical strips and then horizontal strips across. Look I tried my best. If you think otherwise, pull up let's talk in the parking lot. 
Heat your oil to about 315F or almost high heat on the stove. Fry cut-up dough squares till light-skinned brown. Let them cool down and then you can enjoy the crisp and softness.