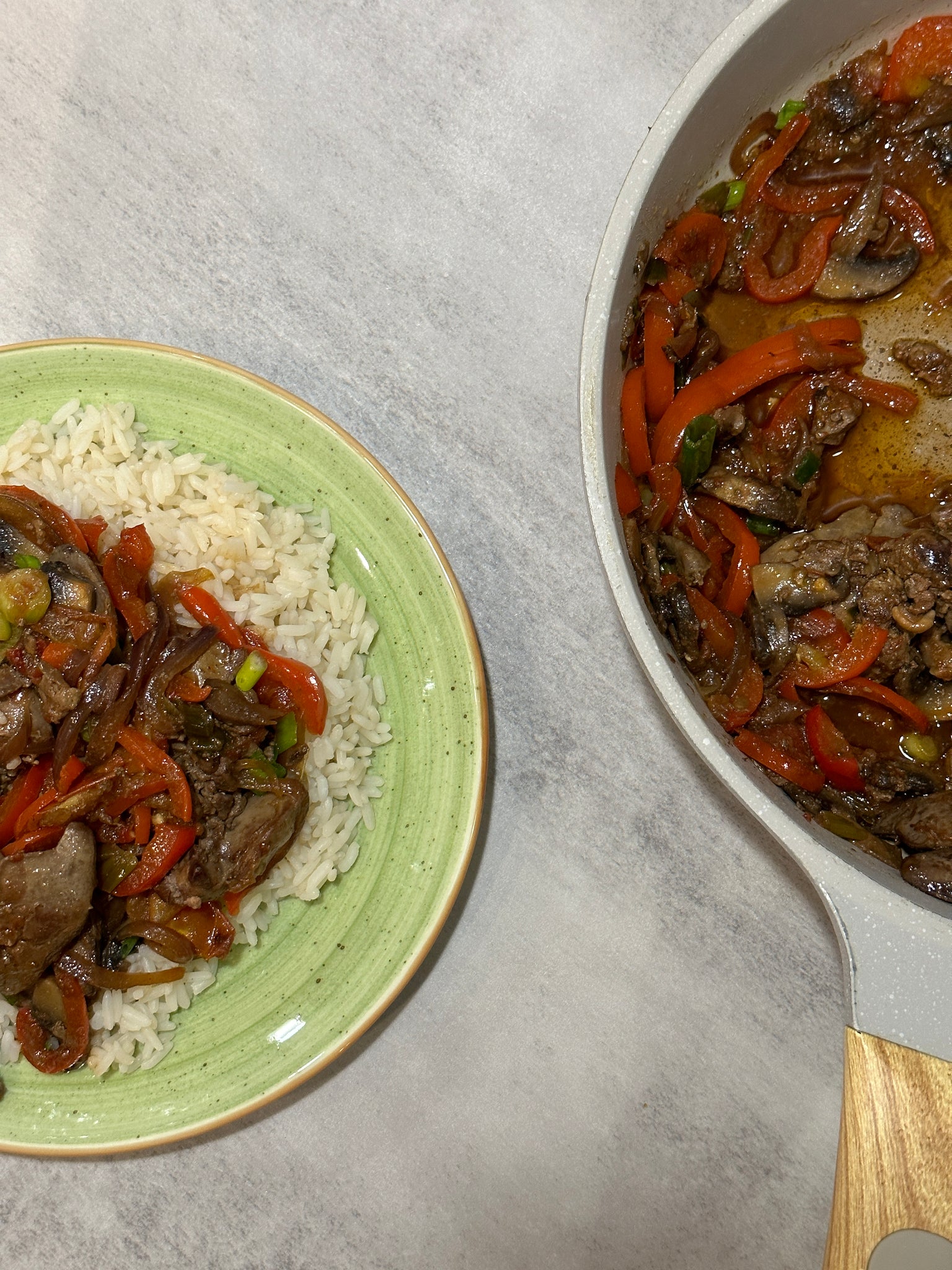 Written by: Tobi
Nothing beats a "budget" sauce that is super duper rich in nutrients, and this Chicken Liver Sauce is one of the best to tick all your boxes. Growing up in Nigeria, we broke down whole chickens and used as many parts of them as possible, including the feet, the gizzards, and the liver too!
Chicken Livers were a one-time treat because whenever we broke down chickens, there was only a tiny little liver piece per chicken, and those bites were treasured.
Now that I live in a country where you can easily buy Chicken Livers by the pound, it was time to go OFF and make a whole dish of these nutrient-packed chicken parts.
Ingredients
½ Onion
1 Tomato
1 tsp of Salt
2 Spring Onions
4-5 Mushrooms
1 Red Bell Pepper
1lb Chicken Livers
1 tsp of Boullion Cube
1 Spoon of Cooking Oil
BTW, don't take my word for it on how nutritious Chicken Livers are - this article shows how much Iron, Zinc, and vitamins you get.
This sauce also packs some heat from Rodo Crisps along with its deliciousness.
Directions
Clean and cut up tomatoes, onions, bell peppers, and mushrooms and set aside. 
Rinse out Chicken Livers and drain properly. 
Add chicken livers, a tsp of Salt, and 1 tsp of rodo crisps in a pan on medium heat. 
Cook for 5-8 minutes and set aside, leaving the oil in the pan.
Add your vegetables to the pan, season with Salt, and saute for 3-4 minutes. 
Get your cooked chicken livers and add them to the pan.
Toss well to combine and allow this to simmer for another 3 minutes. 
Serve with your fav side, and enjoy!