Recipes
Chicken Bits In A Vegetable Medley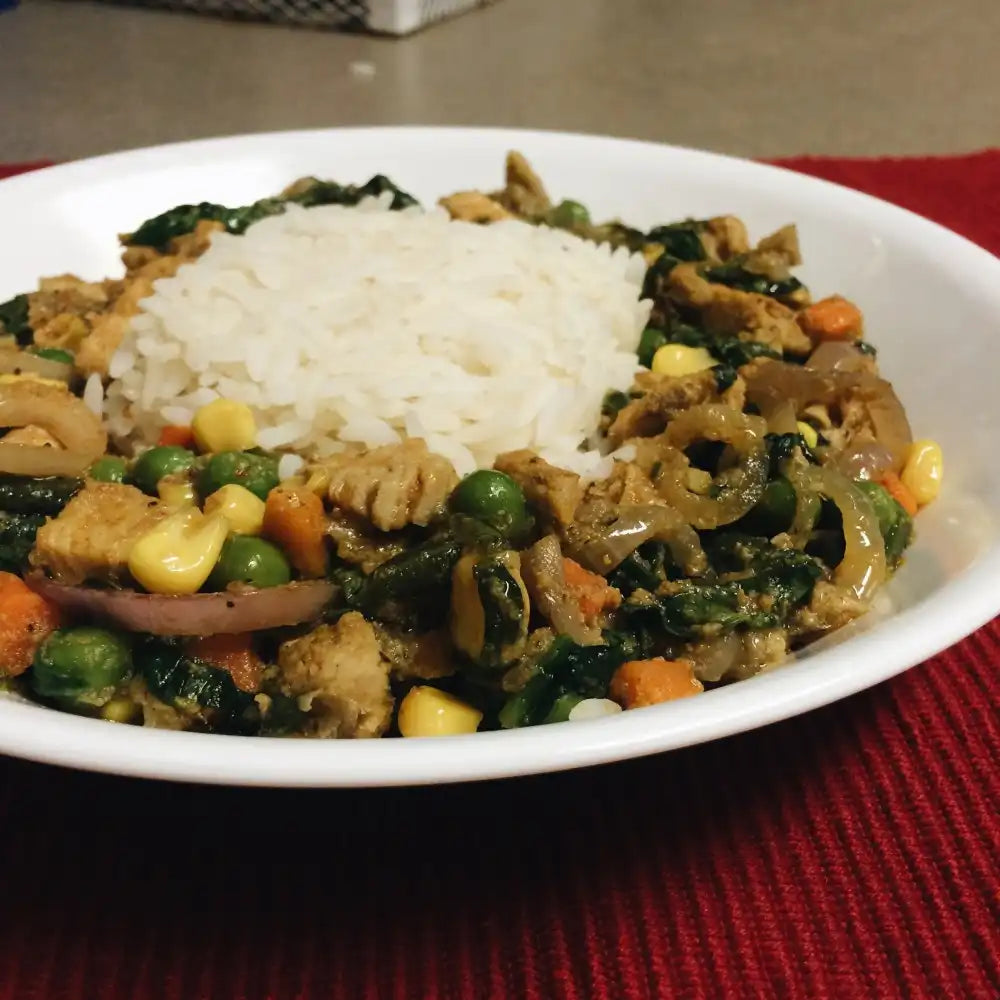 It's been a minute, or a month. I apologize. I could go on and on about how I have been busy but you guys would say "so you have not eaten since?". So I'll leave it.
I was away from my house for a long period, visited a couple cities and had food not cooked by me. It was amazing to be served. Came back home and I became lazy (this is one of my excuses by the way), but sometimes laziness will not feed you.
I took a bold step to my pantry and there was pretty much not a lot, but the freezer had these huge chicken breasts and a frozen vegetables mix. Remember "necessity is the mother of invention"? Yeah, I had to so I put things together and bam! This came out.
I kept thinking of my mum while I made this, because she is a master at making things out of our "there's nothing in the fridge". 
Ingredients
1 Boneless Chicken Breast
Carrots
Corn
Peas
Green Beans
Diced Bell Peppers
1 Onion Bulb
Spinach Leaves
Habanero Pepper
Salt
Cayenne Pepper
Seasoning Cubes
Canola Oil
Here's how I made this.
This dish should take you between 30-35 minutes at a maximum except you take a nap in the middle, or you are practicing your dab.
Directions
First, I marinated my chicken breasts whole in a blend of onions, pepper, habanero pepper, thyme, curry and seasoning cubes for a whole day. (I'm serious)
Cut the breast into strips and then into smaller chunks and boil it in the marinade till it is tender. 
Chop up your vegetables in small bits and set aside.
When the chicken is done drain the stock from it and set aside (will use this soon).
In a pan heat up some canola oil (it's pretty healthier or maybe the bottle looked attractive to me), throw in some onions and then put in your cooked chicken to brown it a little.
Add your vegetables and stir them in. Let these simmer or fry for a minute and then pour in a little of the chicken stock. 
Stir and sprinkle the chopped spinach and turn off the heat. I put so much because I heard my mums voice saying "that's not enough" like twice. (Put this last to preserve some crunch and green in the spinach). 
You could eat this anyway, with rice and more chicken, or you could eat it as a dish itself, this is what i meant by flexible. Perfecto.

Trust me it's fast, easy and finishes quickly too, it a perfect way to eat your vegetables.