Recipes
Cheesy Baked Potatoes And Gizzard Kebabs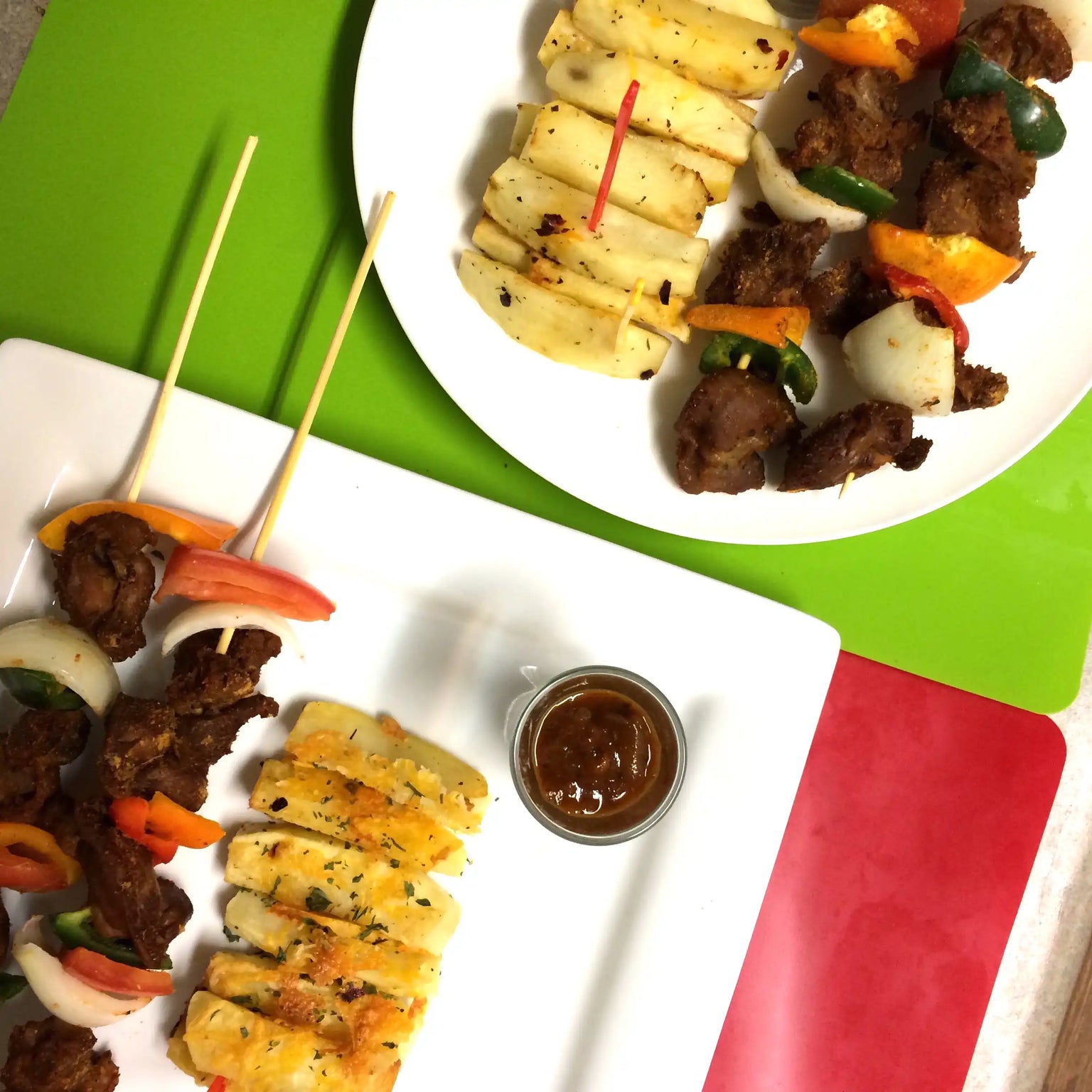 "Abra-Kebab-ra" The Magic Wand for today is going to be a Kebab Stick.
Making this dish took me about an hour to decide. Am I making Stick meat or a Kebab kind of dish?, and what do I have in my pantry to go with this dish? What sauce do I serve it with? Considering that it was not yet pay day the pantry was looking back at me like
Had to make do with what I had left, stuff you could probably have. These were -
Ingredients
3 Lbs of Chicken Gizzards
Bell peppers - Green + Red + Orange + Yellow...if you could get the the whole rainbow no problem
2 Onion Bulbs
2 Tomatoes
2 Habanero Peppers
4 Russet Potatoes
Cayenne Pepper
Seasoning Cubes
Salt
Shredded Cheese
Kebab Sticks
Honey
Suya Spice (optional)
Directionous Continousa:
1. Rinse out your gizzards, chop up an onion bulb, habanero add 2 table spoons of Cayenne pepper and a pinch of salt. Mix everything up then add half a cup of water cover, and boil on medium heat for 10 minutes
2. Peel your potatoes and cut them in even rectangles or wedges, drizzle some oil and sprinkle some salt on them. Heat your oven to 350 F, Line a baking tray with foil and spray to aid removing the wedges later and put them in the oven for 15 minutes
3. Take your gizzards off the burner and strain them (reserve the broth for the sauce later) and place them on another baking dish in the oven for 5 minutes. This would give them the direct heat touch and some crisp and crrrruncch.
4. Rinse the bell peppers, onion bulb and tomatoes and try your best to cut them up into large cubes, they don't have to be perfect well except you are making them for Chef Ramsey then you should use a ruler.
5. By now your potatoes should be almost baked. Take them out and sprinkle some shredded cheddar or mozzarella cheese on them and put them back in the oven then reduce the heat.
6. Now you can go ahead and stack your slightly baked gizzards on your kebab sticks with the bell peppers in a way you seem pretty.
7.  Now get your broth from the coked gizzards, this would be a tad spicy, measure out the quantity you would need and add 3 table spoons of honey to it to give it some thickness. It gives you a sweet and spicy sauce! Easy does it, yeah.