Recipes
Baked Spicy And Ginger Salmon With Vegetables In Stir Fry Sauce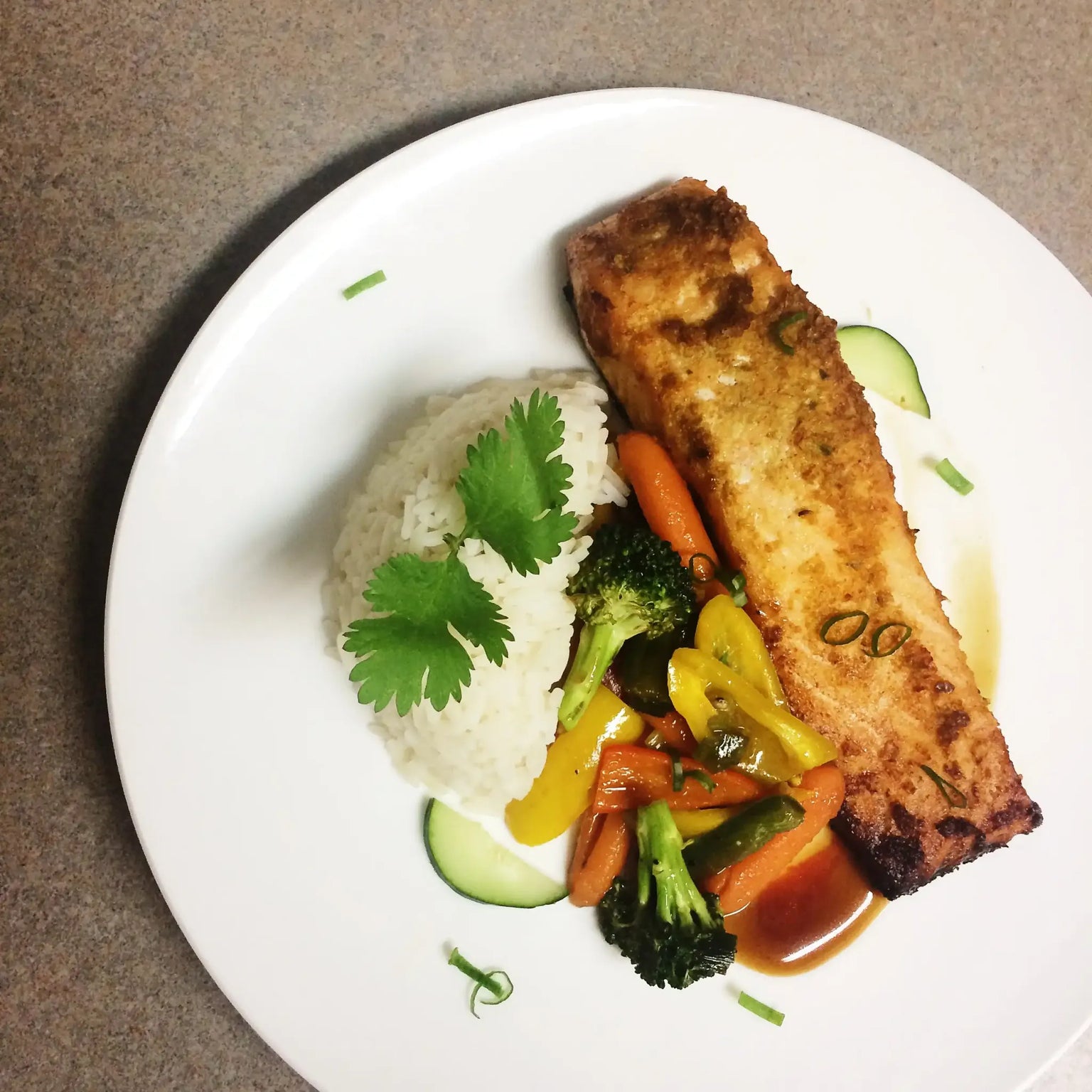 *tenders apologies*. First and foremost, I sincerely apologize for not posting last week. It was a rough week with school and work. During the week, a friend hit me up with a request to do something "healthy". I have never done this so took me two days to come up with this. Worth it! I chose these ingredients due to each one€s health benefits so this is one for the fit FAM! 
Ingredients
Marinade: Ginger
1 Tbsp. Cayenne Pepper
1 Tbsp. Salt
Green Onions
2 Jalapeños
1 Scotch Bonnet Peppers
1 Tomato
2 Seasoning Cubes
Stir Fry: 3 Table Spoons of Stir fry Sauce
Sweet Peppers
Bell Peppers
Broccoli
Cucumber slices
Tomatoes
Carrots
Prep Time: 15 minutes   Preparation time: 30 Minutes  
1. Dab your salmon with a paper towel to remove excess water Cut up the marinade items and blend all with a little water. Place salmon in marinade for about an hour go watch an episode of a show then come back. 
2. Turn your oven to 450F spray a baking dish or tray and place salmon in oven for twenty minutes. (Forgot to take a photo, the show was getting exciting)
3. Cut up all your veggie to desired shapes and sizes in a pan heat two table spoons of Canola oil, put 3 table spoons of Kikkomans stir fry sauce and toss in vegetables for about a minute and its done. 
4. Serve with half a cup of rice and some chopped green onions and cilantro and you have it. 
From the Omega H3 in the Salmon, the vitamins in the vegetables and the roughage, the oxidizing agents in the peppers and ginger, the carbs in the rice this is a great fit dinner. Not too heavy but loaded with protein!