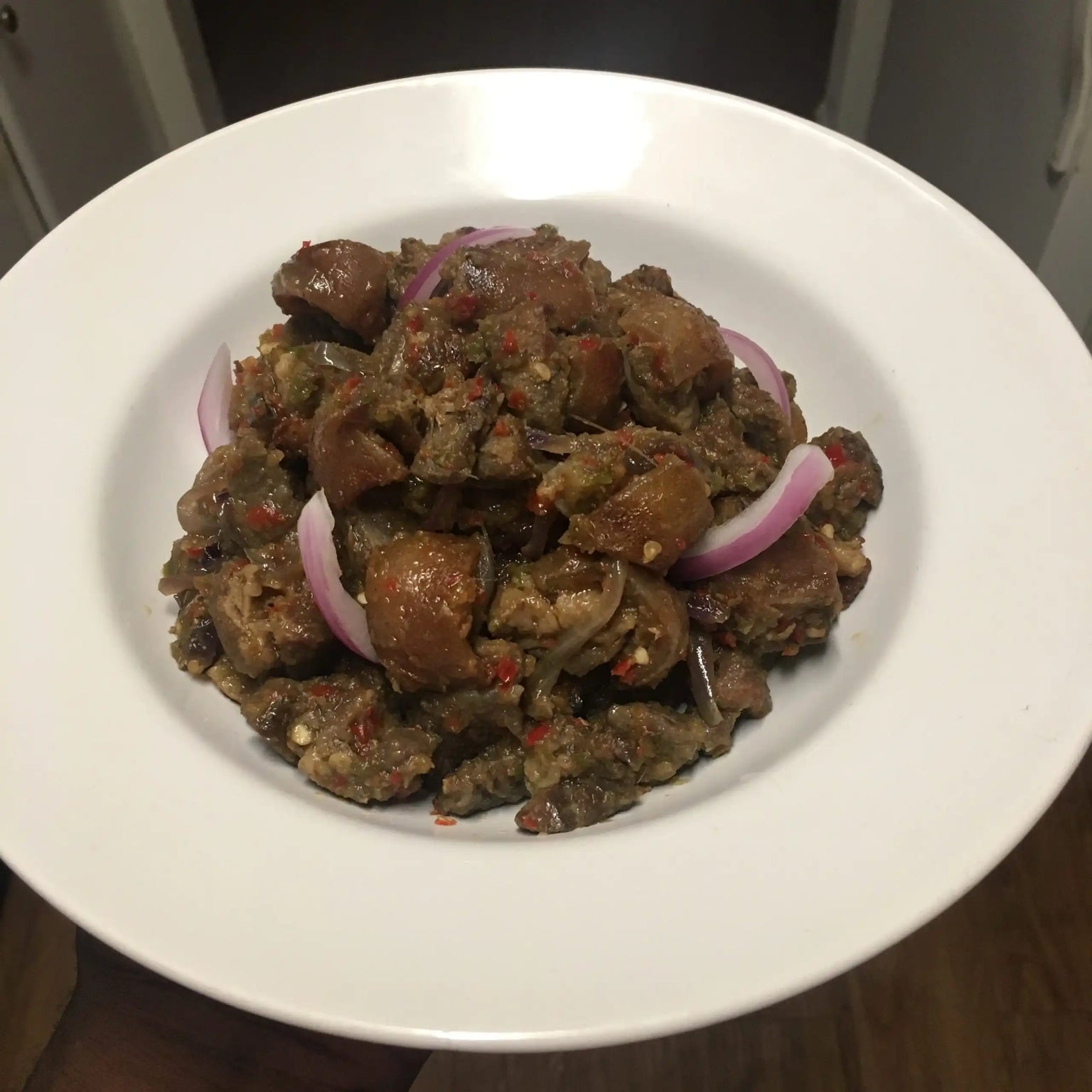 NB: THIS IS NOT FOR THE FAINT HEARTED
I'm actually serious about that warning. The first time I tasted Asun in Nigeria some X years ago (I promise I am not that old), I was sweating bucketloads on my head! My taste buds were on fire, but guess who kept going back for more? Yes, me. Mama ain't raise no quitter. I mean look at the beauty!
Asun is a peppered goat meat dish that uses more of the skin parts of a special kind of goat with really tender meat. It is usually prepared at parties and served straight out of the black pan. If your Asun is not made by someone sweating while stirring it in a black pan with it sizzling, I'm sorry it won't taste the same. I don't make the rules
I had been craving this dish for months so I got burnt goat meat (the best kind) and decided to make this. Invited friends over to come try it to. Couldn't enjoy such goodness alone. 
Ingredients
Salt
Cooking Oil
2 Large Onions
Seasoning Cubes
3 Jalapeno Peppers
5 Habanero Peppers (red)
3 Lbs Burnt/Smoked Goat Meat
This delicacy is best made with a charcoal/wood grill the smoke adds to the flavor, but I didn't want to get evicted from my apartment so I made an "inside the house" version. Tasted amazing! 
Look at the beauty! Take a minute to appreciate the art.
Directions
Cut up your goat meat into tiny bite sized pieces like you are cutting meat up for a kid. 
In a pot add your meat pieces, cut up an onion, add some salt and steam on low heat for 10 minutes. Please don't add water. The goat meat will release its own juices. 
After this, line a baking tray with foil and put the meat pieces in the oven for about 20 minutes at 350F. 
This process crisps, softens and also ensures the smoky flavor in the meat is still present. 
Now grab your black pan. Add a cooking spoon of oil, fry some onions to add some flavor then add your meat pieces to it and toss. Leave this on medium heat. Asun gets exposed to a lot of heat, hence the previous short cooking times. 
Combine habaneros, jalapenos, onions and grind very roughly in a blender. You want a coarse texture. 
Add this blended mix to the pan and stir properly till every tiny piece of meat is coated. 
Throw in more sliced onions and keep stirring. 
At this point you can make a Snapchat video just because you want to show off. I can hear this GIF.
Serve it while it is hot and sizzling. Don't forget to have a cold drink beside you. Enjoy!