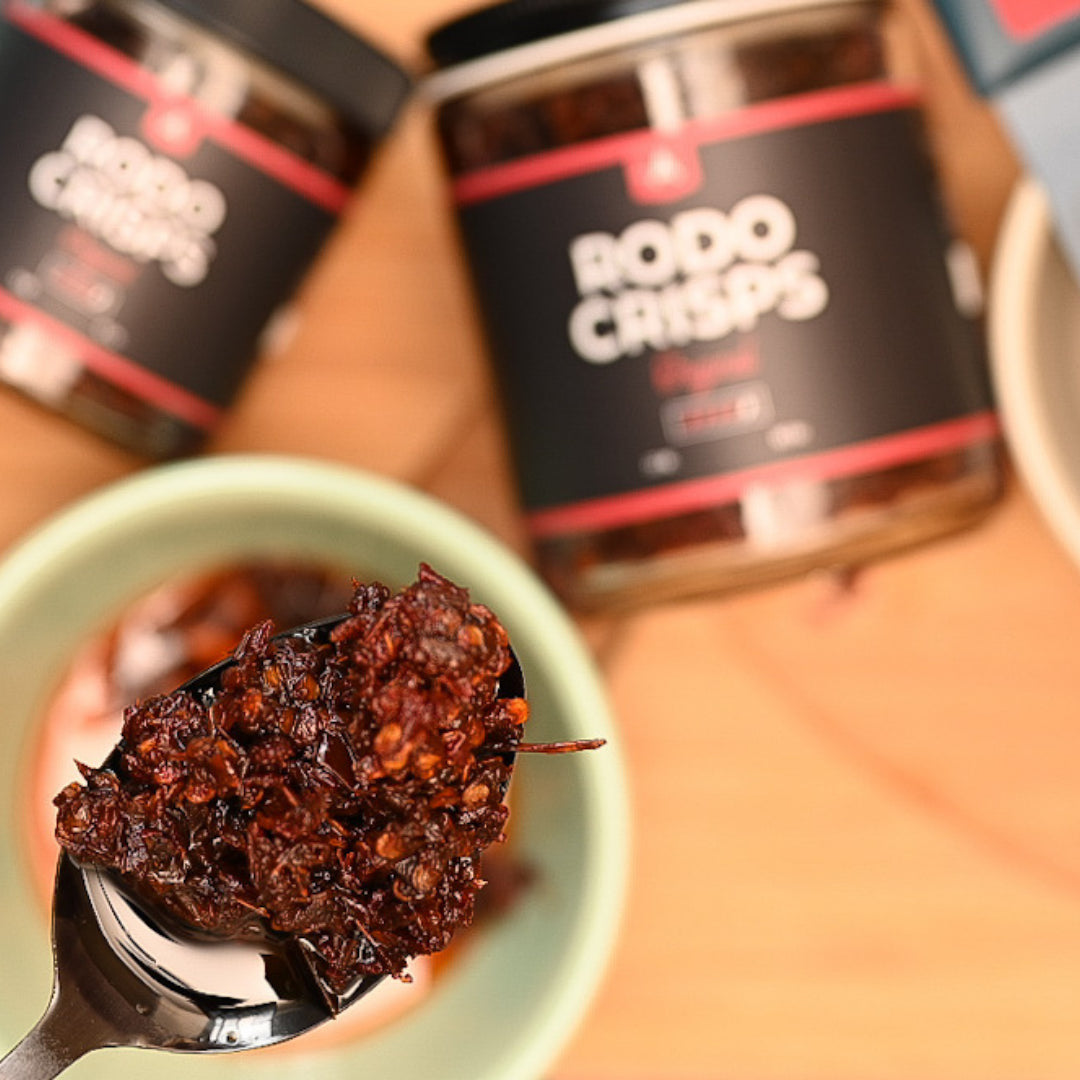 It's been over a year since you read from us; hence we decided to share some great news. Over the past few months, we have been neck-deep in sending out delicious meals all over the USA and learning new things daily, like making more things like Rodo Crisps.
I know you are wondering – "Is this a recipe?"
The answer is this –  this blog started as a mix of sharing recipes, and we would love to add other components like updates, recipes, our thoughts about food, and product launches which brings us to the topic of today, RODO CRISPS!
Simply put, Rodo Crisps (probably one of the best/top two things to come out of the AllIDoIsCook test kitchen) is about to become your favorite pantry item/companion. On a random rainy day, thunder struck, and a piece of paper fell from the sky with the instructions on how to make it, and boom, there we had it! (that's the story, and we are sticking to it). Rodo Crisps are the very close cousin of the OG – Rodo Oil. 
You can tell we LOVE scotch bonnets here!
Okay, so why Rodo Crisps?
In all honesty, they were born out of the need to have spice/pepper "handy and wherever you go." If you were still wondering what it is – Rodo Crisps are made out of 100% scotch bonnet peppers steeped in oil. Its packing heat gives your food texture, and it helps you skip having to cut up peppers yourself; you can add this to cooked food or in the process of cooking food. You name it, Rodo Crisps got you. It is really like that player that can shine in all positions on the field. Imagine your goalkeeper scoring 2 goals every game… Yes, that is exactly Rodo Crisps!
"Okay, so how do I use it?" – ON EVERYTHING.
We mean it. It goes on everything. Over the past couple of months, we have had people test this product, and here are some of the applications Rodo Crisps have been used for
Rodo Crisps Uses
Fried Eggs – well, very much expected
In case Panda Express does not give you pepper sachets, to the rescue.
Amazing Sandwiches  – *chefs kiss*
Adding some spice to your Egg Sandwich too? Yes!
On Steamed Dumplings – isn't that beautiful.
Cooking some noodles and need some spice in it?
If Chipotle forgets to give you Hot Sauce to go, you keep that jar on you!
Going to a wedding and you know the food isn't gonna be spicy enough for you?
We can't wait for you to try it!